Streamsong Resort Golf Packages
Play video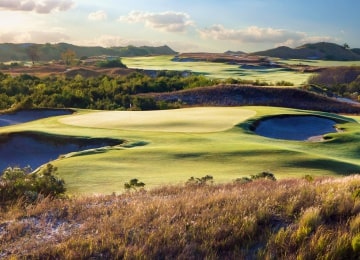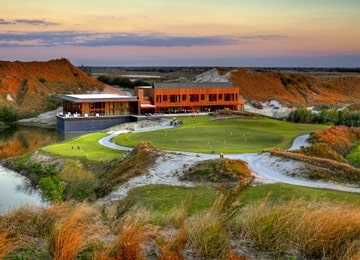 Commonly Asked Questions
Streamsong Resort
Although it opened in 2012, Streamsong Resort has quickly become one of the best golf resorts in Florida. It offers unmatched experiences to golfers in a unique, memorable setting. By virtue of the seamless integration of indigenous, picturesque terrain, Streamsong Resort's three splendid golf courses stretch across a landscape that belies their Central Florida locale. Instead of flatland, golfers will find towering sand dunes and unexpected contours without a distraction in sight. The resort is the only location in the world where players can experience three different golf courses designed by the legendary architects Bill Coore, Ben Crenshaw, Tom Doak, Gil Hanse, and Jim Wagner. These are the world-renowned golf courses you can play at Streamsong Resort:
Streamsong Blue: Created by Renaissance Golf Design's famous architect Tom Doak, this course features spectacular terrain, with rises and falls in elevation and undulating contours, offering some of the most exciting holes in golf. With multiple elevation changes, fairways navigating wild grasses and deep-water ponds, and enormous bunkers that roll off of towering sand dunes, the golf course seems designed by discovery rather than by intention.
Streamsong Red: Designed by the legendary team of Bill Coore and Ben Crenshaw, this golf course is a true masterpiece. Winding through old sand dunes, lakes, and natural bunkers, the course brings drama and strategy into play on each memorable hole. Featuring striking landforms, expansive lakes, rolling terrain, and stretches of open savannah, Streamsong Red is a must-play for every golf aficionado.
Streamsong Black: Created by the acclaimed Gil Hanse, this course has a dazzling championship layout, offering breathtaking views of the landscape, which includes flowing elevation, rolls, tumbles, and sand ridges similar to the Sand Belt Region of Melbourne, Australia. This exciting new addition to the resort is bold and features The Gauntlet, a 1.2-acre putting course, and The Roundabout, a free-flowing practice area that includes three double green complexes.
In addition to these majestic golf courses, Streamsong Resort offers golfers five restaurants, a spa, sporting clays, archery, and guided bass fishing. So, if you're planning a vacation at this superb resort, you can rest assured you won't have time to get bored.