August 15th, 2023
Bucket List Challenge: Play 13 PGA Tour Golf Courses in 12 Months
Pinehurst Resort, Golf Travel Ideas, Arizona, Scottsdale, North Carolina, South Carolina, Palm Springs, Florida, California, Kiawah Island Resort, Orlando, Pebble Beach Resort, PGA National Resort, Tampa, Kohler, Texas
This bucket list has been inspired by a customer of ours who has set out a personal goal for himself to play and knock off one golf course a month that is played on the PGA Tour for the next 12 months. As a result, I have created a list to work off of - A Bucket List Challenge, so to speak - to play 13 fantastic PGA Tour golf courses in the USA in a 12-month period.
I have arranged this list in order of the upcoming PGA Tour Schedule. For those golf courses that are listed here but not on the 2017 schedule, i.e., Pinehurst No. 2, Kiawah Island Ocean Course, and Whistling Straits, I have slotted them in the spots where they would normally be if on the schedule.
Of course, many people have the same or similar lists but may not be able to complete them in 12 months; nevertheless, it's still a great list to work on crossing off.
If you would like to hop on board this Bucket List Challenge, it would be my suggestion, if at all possible, to schedule your trips within a couple of weeks following the PGA Tour event, as golf course conditions will likely be at their best. If not, no worries, as these golf courses are always in top-notch condition.
So here we go, The Bucket List Challenge: Play 13 PGA Tour Golf Courses in 12 Months.
Here are the golf courses:
1. La Quinta Resort - PGA West Stadium Course
Home to the annual CareerBuilder Challenge in Palm Springs, CA, this Pete Dye Course is a definite must-play for any bucket list; PGA Tour stops or not, it serves the golfer with the ultimate test on every shot imaginable.
Date of the CareerBuilder Challenge: Jan-16 to Jan-22-2017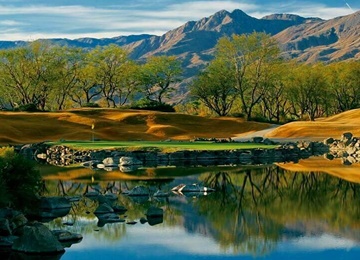 Palm Springs Golf Packages
Learn More
2. TPC Scottsdale Stadium Course
Made famous by the par-3 16th hole, which is a stadium within itself that can hold upwards of 20,000 fans (rowdy, intoxicated fans). Recently renovated by Tom Weiskopf, this redesign seems to have recaptured the interest of PGA Tour players... Well, except for Bubba Watson. Love him or hate him, he does say what he thinks, but that's for a whole other article.
Date of the Waste Management Phoenix Open: Jan-30 to Feb-5-2017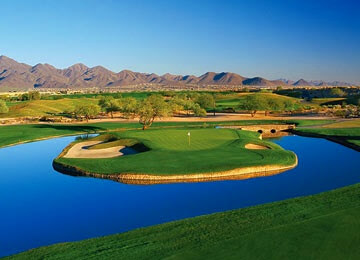 Scottsdale Golf Packages
Learn More
3. Pebble Beach Resort - Pebble Beach Golf Links
Whether Pebble Beach Golf Links hosts the annual AT&T Pebble Beach Pro-Am or not, it certainly is safe to say that this world-renowned golf course is at or near the top of every golfer's "Must Play Before I Die" list. I've played it... Twice. With the awesome course layout and amazing views I can say with 100% certainty that it is definitely worth it.

Date of the AT&T Pebble Beach Pro-Am: Feb-6 to Feb-12-2017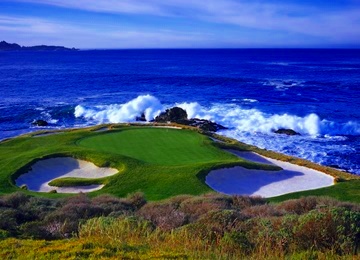 Pebble Beach Golf Packages
Learn More
4. Pebble Beach Resort - Spyglass Hill Golf Club
Also in the rotation at the At&T Pebble Beach Pro-Am, Sypglass Hill may very well sky-rocket to the top of any golfers all-time favorite courses list. It did for me when I played it. Magnificent views and golf course design, you really could not ask for anything better.
Date of the AT&T Pebble Beach Pro-Am: Feb-6 to Feb-12-2017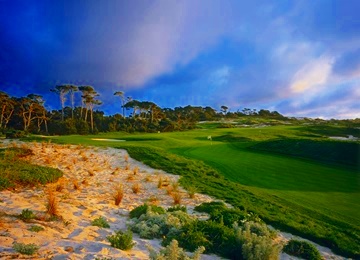 Spyglass Hill Golf Packages
Learn More
5. PGA National Resort - The Champion Course
Home to The Honda Classic and made famous by The Bear Trap - #15, #16, #17 - which signifies one of the toughest stretches, not only on the PGA Tour year in and year out, but also in golf. Period. This Jack Nicklaus design will challenge golfers every step of the way and every club in the bag. The perfect spot for any West Palm Beach golf vacation.
Date of The Honda Classic: Feb-20 to Feb-26-2017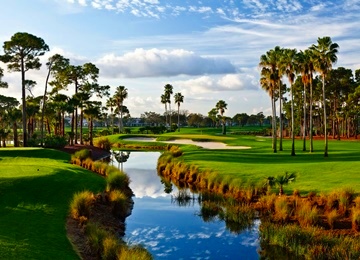 PGA National Resort Golf Packages
Learn More
6. Innisbrook Resort - Copperhead Course
One of the more popular stops in recent years on the PGA Tour, the famed Copperhead Course, is as traditional as they get; with recent winners of the Valspar Championship being Jordan Spieth and the 2016 Champion, Charl Schwartzel. Step up your game and test yourself in Palm Harbor, FL.
Date of the Valspar Championship: Mar-6 to Mar-12-2017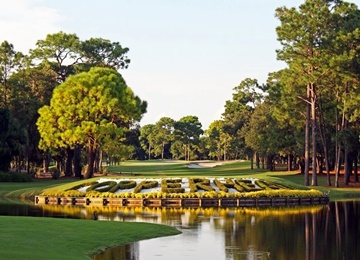 Innisbrook Resort Golf Packages
Learn More
7. Arnold Palmer's Bay Hill Club & Lodge
For years, The Arnold Palmer Invitational Presented by Mastercard every March has been one of the most popular stops for the best golfers in the world. No doubt that it will become increasingly popular, if that's even possible, as golfers will want to pay tribute to The King, Arnold Palmer.
Date of The Arnold Palmer Invitational Presented by Mastercard: Mar-13 to Mar-19-2017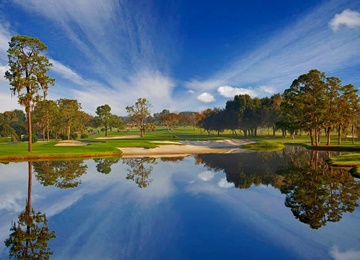 Orlando Golf Packages
Learn More
8. Sea Pines Resort - Harbour Town Golf Links
Many PGA Tour players flock to Sea Pines Resort every April the week following the Masters to play the RBC Heritage, as well as to get some much needed relaxation after competing in the first major championship of the year. A perfect combination of great golf (another Pete Dye design) and tranquility in Hilton Head, SC.
Date of RBC Heritage: Apr-10 to Apr-16-2017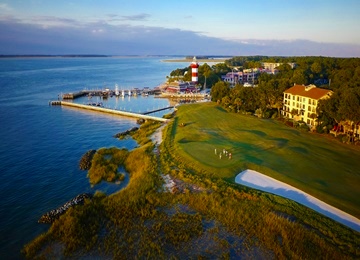 Sea Pines Resort Golf Packages
Learn More
9. TPC San Antonio AT&T Oaks Course
Home to the Valero Texas Open, the Greg Norman designed (assisted by player consultant Sergio Garcia) TPC San Antonio AT&T Oaks Course provides the Tour players with a great test of golf, a traditional combination of narrow tree-lined fairways and wider fairway options, and a natural feel and look. A must on any golfers bucket list!
Date of the Valero Texas Open: Apr-17 to Apr-23-2017
TPC San Antonio Golf Packages
Learn More
10. TPC Sawgrass Players Stadium Course
It's safe to say that this Pete Dye golf design holds a top spot in the list of golf courses that are must play. Legend has it that the brainchild behind the famed island green signature 17th hole was that of Dye's wife, Alice. So you have her to thank if (when) you dunk golf ball after golf ball in the water.
Date of The Players Championship: May-8 to May-14-2017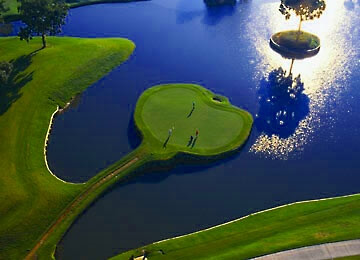 TPC Sawgrass Golf Packages
Learn More
11. Pinehurst Resort - Pinehurst No. 2
Pinehurst No. 2 is a world-renowned Donald Ross design that, in recent years, was renovated by the golf architect team of Coore & Crenshaw just prior to the 2014 Men's & Women's U.S. Opens. A definite must-play for every golfer. And, of course, there are eight other great golf options at Pinehurst Resort.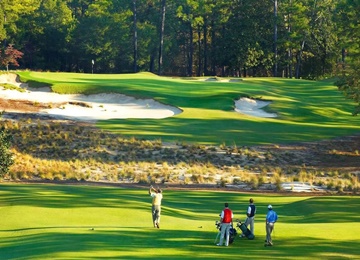 Pinehurst Resort Golf Packages
Learn More
12. Kiawah Island Resort - Ocean Course
In recent years, the Ocean Course has been home to the 2012 PGA Championship; however, this Pete Dye design was likely made famous by the 1991 Ryder Cup matches between the United States and European teams, dubbed "The War by the Shore."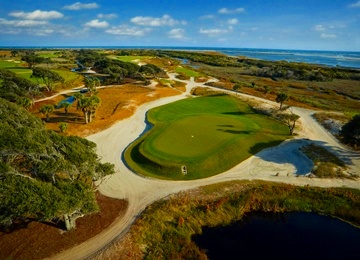 Kiawah Island Resort Golf Packages
Learn More
13. Destination Kohler - Whistling Straits
Herb Kohler was a man on a mission years ago (and very likely still is) to create a world-renowned golf resort that would host major championships and Ryder Cup matches. Well, to his credit, he has achieved all of these (well, not quite, but his bucket list will be crossed off with the 2020 Ryder Cup on the Straits Course) and so much more with this first-class golf resort.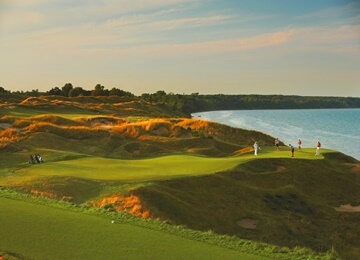 Whistling Straits Kohler Golf Packages
Learn More
-----
Overall, a pretty solid list of awesome golf courses is awaiting you with this Bucket List Challenge. Of course, if you've played a bunch of them already, then you are well ahead of the game. And if not, well, you're likely not getting any younger, so no time like the present to start.
Whether you set out to do this in 12 months or 5 years, it makes no difference; whatever works for you. Most important is to give it a go and to enjoy it!
Now back to getting started... click on any one of our Request a Quote buttons or give us a call toll-free at 1.877.634.0790, and we will be more than happy to help you get started on this golf vacation Bucket List Challenge.