December 13th, 2016
3 Destinations That Will Have Your Wife Somewhat More Pleased She Married a Golf Addicted Idiot This Winter
Golf Travel Ideas, Arizona, Florida, Dominican Republic
"You're a golf addicted idiot."
Says the wife of a customer of ours, that will remain nameless, but I can say his name does start with a "Jay" . . . I mean "J" . . .
Anyway, allow me to get back to teeing this one up before getting to the destination ideas . . .
"You're a golf addicted idiot."
Says this very, which I can only assume, smart young woman, to her husband after he spent some productive (unproductive?) time chipping in the backyard in 25 degree weather, in the pitch dark night, one day after suffering a stomach flu.
I received an email from him, which, when I read it I couldn't help but to belt out a loud laughter. I'm not sure what I laughed at more, the fact that he did this, she said what she said, or because I told him and his crew earlier in the day that there's no way they will make it to Christmas without twitching out of control with no golf.
Likely all three.
All that said, I'm sure he's not the only guy that would do such a thing, nor is she the only wife to say such a thing.
And guys, let's face it, the wives are probably saying much worse about the golf addicted idiot she married (you) behind your back, so I'm here to help you out as much as I can. I've put together a list of great vacation destinations that have sun, water, shopping, restaurants, and wouldn't you know it, golf courses right on-site.
It's quite simple, fellas, you want an extra golf trip every year, well, here's how . . .?
"Honey, let's go to 'x' for a week, you and I (or as a group of couples that include your golf buddies) and get out of this damn cold weather".
The beauty of it is when she says "You just want to go away so you can play golf", you can truthfully and honestly say something like "Yes, you're right, but you get the beach or pool and shopping, then we can have dinner together and do stuff at night. And besides, if you were being honest you would say space is good because I drive you nuts,"so it works out well." Something like that.
That one paragraph is likely littered with truths.
Sounds like a win-win for everyone involved.
OK, so now that I've laid the groundwork for you, here are the best destinations that will make your wife somewhat pleased she married you, the golf addicted idiot:
1. Casa de Campo Resort - Dominican Republic
Quite simply, sun, water, warmth, unlimited drinks and meals, exceptional lodging, and oh yes, golf. Located in the Dominican Republic, this is the ideal scenario for showing your worth to your wife, that your golf addicted state, while mildly annoying at times, is finally paying off . . . for the both of you.
Here is what she will definitely enjoy:
Beach
Pool
Spa & Wellness
Holistic Services & Yoga
Excellent Dining
And much more!
Here are some of the inclusions with Casa de Campo Golf Packages:
Guest room Accommodations with a 4-passenger resort touring cart
Full American Breakfast at Resort restaurant
Unlimited drinks in resort restaurants, bars & lounges and Oasis golf course cart (bottles, mini-bar, premium bottled water, specialty cognacs and premium brand liqueurs are not included)
Lodging in an Elite Balcony Resort Room
One round of golf per golfer for each night stay on Pete Dye's Teeth of the Dog, Dye Fore, The Links
Golf cart (shared)
Driving range
Unlimited club storage
Use of the Fitness Center and High-speed wireless internet
Lunch, snacks and dinner at Resort restaurants or room service with applicable delivery charge extra
So, while you are playing your round of golf, slugging it all over the map (and really, how is that any fun?) your wife is sitting and relaxing by the pool or on the beach enjoying life.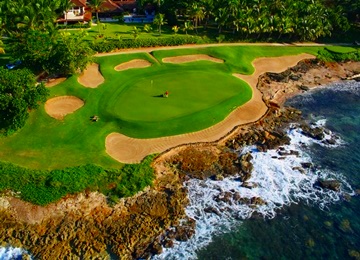 2. Reunion Resort - Orlando, FL
Another great spot that gets you out of the cold and dreery winter, and into the warmth of the Florida sun. Furthermore, it puts your wife right in the heart of some great shopping, and of course, a beautiful resort pool.
For you, you golf addicted idiot, you are treated to three golf courses designed by Hall of Fame golfers and legends in the architect world - the Palmer, Nicklaus, and Watson Courses - so you do not have to venture far from the resort.
Here is what she will definitely enjoy:
Spa & Wellness
Treatments
Resort Pool
Some fine dining
Outdoor activities
Shopping
And last but not least, peace and quiet (you're playing golf, remember?)
Here are some of the excellent inclusions to Reunion Resort Golf Packages:
Lodging in Reunion Resort Deluxe Villa
One round of golf per golfer for each night stay on the Nicklaus Course, Palmer Course, and Watson Course
Golf cart (shared)
Driving range balls
You also get to choose from several lodging options for your stay - Hotel guest room, villas, and private vacation home rental.
Next up . . .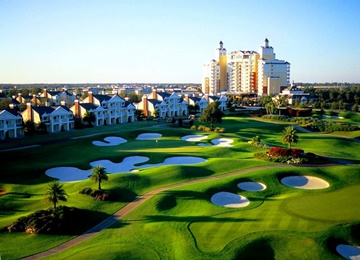 3. We-Ko-Pa Resort & Conference Center - Fountain Hills, AZ
Although We-Ko-Pa Resort is located a short distance outside of Scottsdale, I personally think it's ideal for all parties involved. For the wives, plenty of activities and relaxation on the resort, and for the golf addict idiot, two fantastic golf courses at the resort - the Saguaro Course (rated #1 in Arizona of courses to play) and Cholla Course (rated #5 in Arizona of courses to play). Also, it has a fantastic practice facility, so instead of chipping in the dark back in Pittsburgh, Chicago, New York, or Toronto, you can do so here, under the sun and in the warmth.
And your wife won't think you're nuts for doing so!
Back to the point of this article . . . the drive into Scottsdale is quite easy, so on the days your wife or the wives want to venture into town for some shopping or a nice lunch, they can do so very easily. Same deal for date night dinners and entertainment.
Here is what she will definitely enjoy:
Massages
Esthetics and Skin Care Treatments
Waxing
Salon Services
And much more!
Here are some inclusions to one of our favorite Scottsdale Golf Packages:
Deluxe resort room at We-Ko-Pa Resort & Conference Center
One round of golf per golfer for each night stay, playing We-Ko-Pa Saguaro and Cholla Courses
Golf cart (shared)
Play it smart, fellas
Bottom line, you golf addicted idiots, it's quite easy to get an extra golf trip every year, one that feeds your addiction but, more importantly, displays some of that much needed value to your wife.
If you play your cards right, this can become an annual tradition for the family, and will leave you the envy of your golf-loving friends that aren't 'allowed' to play golf anymore.
Play it smart, fellas. Start planning by requesting some package pricing. We'll help you out.