February 08th, 2017
Talking Stick Golf Club North Course – A Coore & Crenshaw Must Play
Golf Travel Ideas, Golf Course Reviews, Arizona, Scottsdale
Anytime a golf course is associated with the design team of Coore & Crenshaw golfers know they are likely in for something very special. For instance, the Coore & Crenshaw design Saguaro Course at We-Ko-Pa Resort, consistently the topped ranked course in the state of Arizona is a perfect example of something very special.
One of Scottsdale's Best
Back to Talking Stick North Course . . . One of my personal favorites in the Phoenix/Scottsdale area, is a great test of golf. On the surface, it may not seem as though it would be as it is relatively flat, however, the subtleties are quite impressive. Of course, I'm not the only one that thinks this way as it is ranked #15 in the state of Arizona by Golfweek magazine. Furthermore, anytime I have played there, they seem to be a full house.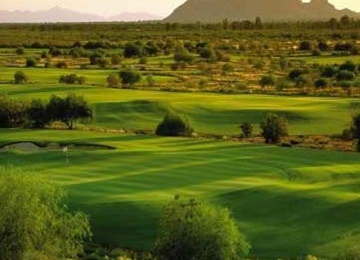 5 Night, 5+ Round Golf Your Brains Out on a Budget Scottsdale Golf Package
Starting from $113 per golfer per night.
Learn More
My first time playing the North Course at Talking Stick, I walked away very pleasantly surprised at how much fun it was to play. The team of Coore & Crenshaw turned an extremely flat piece of land into a combination of challenge, shot-making, playability, and intrigue. Furthermore, the playability of the North Course is a big reason why pace of play is rather good, and something that golfers on a golf vacation should look for. Obviously, that can change from day to day, but my experience on the North Course has always been very pleasant.
In addition to the North Course, golfers will also enjoy play on the South Course, a great driving range, inspiring clubhouse, and of course, some great grub!
From start to finish, Talking Stick North, is a wonderful golf experience, and one that golfers will want to be a part of of their next Scottsdale golf vacation.
Start planning your Phoenix-Scottsdale golf vacation. We are here to help you personalize your experience. Call us today - 1.877.634.0790.
Golf Travel Blog - GOLF TRIP JUNKIE RSS