August 03rd, 2016
We-Ko-Pa Saguaro Course – A Must Play Scottsdale Golf Course
Golf Travel Ideas, Golf Course Reviews, Arizona, Scottsdale
We-Ko-Pa Saguaro Course
The Saguaro Course at We-Ko-Pa - a Coore & Crenshaw design - opened for play December 2006, and has not looked back as the top golf course the public can play in the state of Arizona (Golfweek Magazine). I was very fortunate to play the Saguaro Course a month after it opened, and you would have thought it had been there for years both with the perfect setting but also the exceptional conditioning.
Located a short drive just outside Scottsdale in Fountain Hills, the Saguaro Course is an absolute must play in any Scottsdale golf package.
Shorter in length than its sister course - the Cholla Course - measuring at 6,600 yards from the back deck, its design resembles "Scotland in the Desert" with tee boxes close to greens and the use of run up shots to the greens. Saguaro is a golf course that is both challenging and certainly fun to play. Moreover, as challenging a golf course it is, it is highly touted to be "player-friendly" off the tee and for approach shots. Nevertheless, as player-friendly as it may be - And don't let its "shortish length" fool you! - the golfer still must pick their spots off the tee, and navigate through the undulating fairways, and know when the times are appropriate, to go after certain pin positions. If you are on your game, and hit all the right speed-slots in the fairways, you will certainly shorten things up even more, however, if not, you will be left with some longer, perhaps hanging lies, than expected yardages into the greens.
"

This piece of land has some very interesting natural movement to it. I think this golf course will be pretty unique for the desert. People will be induced to play different shots and find solutions to new challenges when playing this course."
- Ben Crenshaw
A Coore & Crenshaw Masterpiece
#14 – Saguaro Course
The Saguaro Course offers a good mixed-bag of holes, ranging from the very short par-3 9th hole, measuring at 137 yards to the long par-3 15th hole of 255 yards, and everything in between. As for the par-4's and 5's, there is also an extremely good mix as well. A couple shorter, reachable par-4's for the longer hitters, however, if you don't keep it in the ballpark you will definitely find some trouble. These shorter holes are off-set by some very good length, occasionally uphill par-4's.
The closing stretch of holes, following the long par-3 15th hole, are, as far as I'm concerned, some of the finest finishing holes in golf. The 16th hole is a short uphill par-4, with several options, and a very well protected (and small) green. Making your way to #17, could be one of the most enjoyable tee shots on the course into a hard sloping right-to-left fairway. Hit the right spot and the ball will go forever. Although that may be good on the surface, it still leaves a difficult shot into the undulating green. And lastly, one of my favorites, the 18th hole, is also one of my, if not my favorite tee shot, on the course. A long par-4 to finish things up, at 508 yards, is definitely a challenging final hole.
In an attempt to bring the game back to its roots, walking is encouraged on the Saguaro Course, with walking carts available. Of course, there are buggies available, for an enjoyable ride as well, along with the bar-cart girls ever-present and friendly!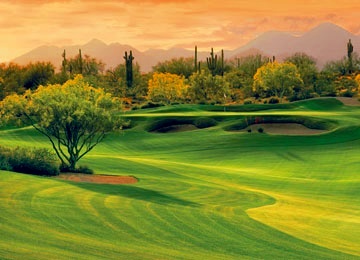 Magnificent Views of the McDowell Mountains
Saguaro Course at We-Ko-Pa Resort
For you golfers out there that like to beat balls on the range before your round, during your lunch break, or after your round, We-Ko-Pa has an exceptional practice driving range. A good way to sharpen up your iron play before the round! That, coupled with the magnificent views of the McDowell Mountains, the friendly and courteous staff on-site, your day of golf on the Saguaro Course will be one to remember!
I have been fortunate to play the Saguaro Course on several occasions, and anytime I am back in the Scottsdale area it tops my list of golf courses to play. After playing 10+ rounds of golf on Saguaro, I always walk off the golf course wanting more. From the opening tee shot to the final putt, it definitely is a golf course that leaves an ever-lasting impression.
The Saguaro Course is a MUST for any Scottsdale golf vacation
At Golf Trip Junkie, we have several great Scottsdale golf packages that include the Saguaro Course, as well as its sister course, Cholla. If you don't find what you are looking for for Scottsdale, simply fill out the golf vacation form, and we will get you rolling. No matter how many nights or rounds, we've got you covered!