July 24th, 2023
Why JW Marriott Desert Ridge Is a Must-Visit Golf Destination
Golf Travel Ideas, Golf Course Reviews, Arizona, Scottsdale
Immersed in the vibrant serenity of the desert, JW Marriott Desert Ridge offers a diverse array of experiences, including championship golf, as it features two courses designed by two of the most famous architects worldwide, Nick Faldo and Arnold Palmer. The resort also takes pride in having one of the top pickleball facilities in Phoenix, with 17 courts, as well as five spectacular pools with a lazy river. Escape to this luxurious Arizona desert resort, where awe-inspiring vistas, exceptional service, and modern facilities will inspire you in a way no other resort can.
The Faldo Championship Course, Inspired by the Great Sand Belt Courses of Australia
Spreading out over 174 acres, this fun and not overly difficult course has been very popular with golfers of all skill levels ever since it opened in 2002. The golf course gets its character, intrigue, and strategy from the over 100 dramatic sand bunkers it features. Bunkers line the fairways and greens, and in the process, they define the playing corridors and set the angles of play. The Faldo Course is a desert course that is not about target challenges or forced carries. With its gaping landing areas, the golf course is fun and playable.
Faldo gives players options on tee shots and approach shots that are angled from the fairways. The key is avoiding the bunkers and the desert. The greens are large and elevated but only moderately undulating. The 18th hole on the Faldo Course will quickly become the stuff of the 19th hole legend, as it features no less than 10 bunkers and, from an elevated tee box, provides a heart-pounding view of Marriott's new Desert Ridge Resort Hotel. The golf course is surrounded by the McDowell Mountains and scattered with century-old saguaro cacti.
The Palmer Signature Course, One the Greatest Golf Courses in the Scottsdale Area
The Palmer Signature Course is a par 72 layout that opened in 1997. It offers breathtaking views of the surrounding landscape at every hole. The expansive and immaculate fairways allow the player to remain in the game even if they tend toward the occasional errant shot. With superb flashed bunkering and curvy putting greens that perfectly emphasize what Arnold Palmer courses are most famous for, golfers can expect excitement, challenge, and entertainment while playing a round of golf there. The course has received numerous accolades over the years, such as being one of the Top 100 Resort Courses in the United States.
From the tees, golfers will look out to large fairways, which allow for missed shots to remain in play. Bunkers are sprinkled all across the course, from fairways to greenside, making accuracy essential. Like many of Palmer's courses, the greens are large with heavy amounts of undulations, making even a short putt tricky. The golf course is great for players of all skill levels, as it rewards great shots while not punishing poor ones too harshly. On top of a great round of golf, players will enjoy the scenic views of North Phoenix and perhaps even the wandering wildlife.
Have we sparked your interest in playing golf at JW Marriott Desert Ridge in Arizona? Check out two of our best golf vacation packages for this mesmerizing destination!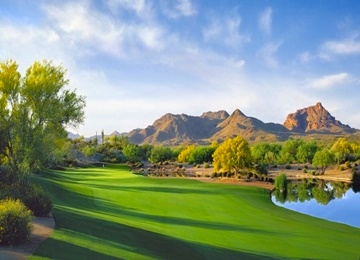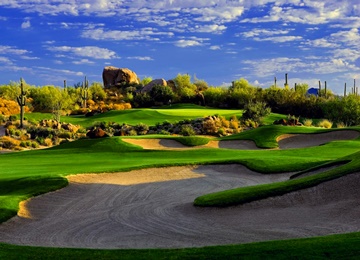 From a Casual Brunch to a Fine Dining Experience, You Can Try Delicious Meals After a Round of Golf
Inspired by his aunt's passion for authentic flavors, celebrity Chef Angelo Sosa celebrates the landscape, farmers, and community of the region with a tantalizing menu designed to delight every palate. Reflecting a mix of tradition and modernity, his bold approach to cuisine is perfectly paired with a diverse beverage selection for a memorable dining experience. So, after a round of golf, you can relish a wide variety of dishes at the following restaurants of the resort:
Tia Carmen: this is a restaurant honoring local farmers and the Desert Ridge community through innovative flavors as created by celebrity chef Angelo Sosa
Twenty6: unwind at this lounge and bourbon bar after a full day in Desert Ridge, and meet friends for happy hour while you take in stunning views amidst casual outdoor seating
Meritage: this restaurant invites you to a sophisticated urban tavern serving a diverse dining menu alongside more than fifty different craft beers from Arizona
Revive Spa Bistro: the flavorful, health-conscious menu at this bistro is the ideal way to nourish your body and spirit and also offers casual dining
The Takeaway
At JW Marriott Desert Ridge, you can experience desert golf like nowhere else, as the two courses the resort features are unique and provide challenges that will put your game to the test. Regardless of where you live, you should add this superb golf vacation destination to your bucket list and make a point to book a trip to enjoy the many amenities it has to offer, in addition to championship golf with your family or friends.