February 25th, 2017
#AskSean: We're Heading to Scotland . . . Got Any Hidden Gems to Play?
Golf Travel Ideas, Scotland, Golf Course Reviews, #AskSean
I was first introduced to North Berwick a few years back on our Scotland golf vacation, and to this day remains one of the most fun I've ever had playing golf. The West Links at North Berwick, and Royal Dornoch Golf Club top my personal favorites list.
A truly unique setting, the West Links Course at North Berwick is the perfect compliment to any Scotland golf vacation. From the opening tee shot to the final hole, golfers are required to use their creativity, imagination, and shot-making skills as approach shots, often from undulating fairways, into greens that are protected by deep bunkers, blind shots, and even the odd shot over a stone wall.
Highly Ranked & Too Close to the Old Course to Not Play
Located only 1 hour 45 minutes from the Old Course at St. Andrews, North Berwick will only increase the overall enjoyment of a Scotland golf holiday. With breathtaking views of the Firth of Forth, the expertly crafted Redan hole #15, and so many other classic golf design features, golfers have been treated with this masterpiece since the beginning of golf.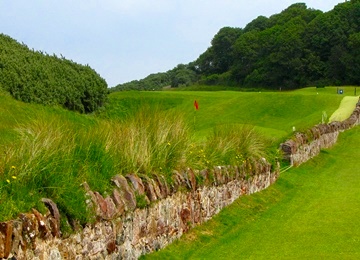 North Berwick West Links - Ranked #49 in the World
Dating back to 1832, North Berwick is a wonderful golf experience. Currently ranked #49 in the world in 2016, it is a must play. In fact, take a look at the company North Berwick keeps in the world golf course rankings (Golf Magazine):
46. Muirfield Village
47. Barnbougle Lost Farm
48. Whistling Straits (Straits Course)
49. North Berwick (West Links)
50. Kiawah Island (Ocean Course)
51. Bethpage (Black)
As one can see, North Berwick, albeit not as well known as some on this short list, certainly is highly touted in the world of golf. Golfers that play it once are left with a lasting impression, and one that they will be quick to tell their friends about. I would also go as far to say that it may make its way to the top of the list in the golf courses played on a Scotland golf package.
If the traveling golfer doesn't mind a relaxing and easy drive from St. Andrews to North Berwick, we can perfectly custom-create a golf package that would include both the Old Course and the West Links at Berwick. Of course, if you are not looking for the Old Course experience, North Berwick is easily combined with other wonderful golf courses in the area.
Start planning your Scotland golf vacation
Call us for more details at 877.634.0790.