June 09th, 2017
#AskSean: We're Playing Pinehurst No. 2 . . . Got Any Tips to Make Our Round More Memorable?
Golf Travel Tips, Pinehurst Resort, #AskSean
After having the pleasure of playing Pinehurst No. 2 a couple of weeks ago, albeit a less than stellar round of golf on my part, I have a few simple tips that will make the experience that much better for golfers of any skill level.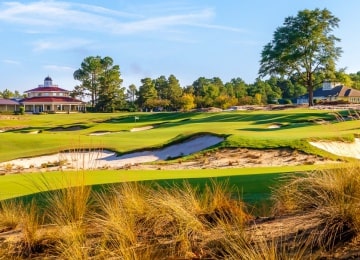 #1. Walk, Don't Ride
Although we opted to take a cart during our round, as our backs decided to flare up on us (Perfect timing!), the thought of walking a bunch was not overly appealing. That said, seeing that Pinehurst No. 2 is cart-path only at all times, there still was a bit of walking (unless you hit it towards the cart path areas, which I certainly did at times, both intentionally and unintentionally).
While riding on the golf cart, both my buddy and I said on several occasions that we would most definitely walk the next time we have the opportunity to play the No. 2 Course. No question. To get the best overall experience and appreciation of the famed Donald Ross design/Coore-Crenshaw renovated course, walking is a must!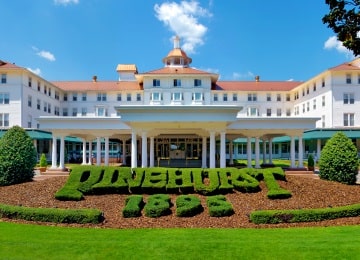 #2. Hire a Walking Caddie
Caddies certainly aren't for everyone, but along with walking Pinehurst No. 2, having a knowledgeable caddie guide you around the course can only add to the overall experience.
I have always been of the notion to not have a caddie, right or wrong, but I like the idea of figuring things out for myself. That's the way we did it in Scotland at the Old Course, Turnberry, Muirfield, Royal Dornoch, as well as at Pebble Beach Golf Links. That said, hanging out behind the 18th hole of No. 2 watching golfers with their caddies, you could definitely see the added enjoyment they were receiving from their caddies hard work and vast knowledge.
Notice
: Trying to get property 'sef_id' of non-object in
/home/golf/public_html/frontend/default/contents/blog-content.php
on line
328

Notice: Trying to get property 'hot_deal' of non-object in /home/golf/public_html/frontend/default/contents/blog-content.php on line 336

Notice: Trying to get property 'special' of non-object in /home/golf/public_html/frontend/default/contents/blog-content.php on line 342

Notice: Trying to get property 'corporate' of non-object in /home/golf/public_html/frontend/default/contents/blog-content.php on line 347

Fatal error: Uncaught Error: Call to a member function image() on boolean in /home/golf/public_html/frontend/default/contents/blog-content.php:353 Stack trace: #0 /home/golf/public_html/frontend/default/layouts/default-layout.php(469): include() #1 /home/golf/public_html/page-controller.php(149): include('/home/golf/publ...') #2 /home/golf/public_html/index.php(25): require_once('/home/golf/publ...') #3 /home/golf/public_html/router.php(527): include('/home/golf/publ...') #4 {main} thrown in /home/golf/public_html/frontend/default/contents/blog-content.php on line 353