November 15th, 2017
#AskSean: Is There Value in Shipping My Golf Clubs with Ship Sticks?
Simply put, yes.
There are many different ways and/or reasons for saying yes to this question, but the bottom line is that using Ship Sticks is littered with value propositions and, quite frankly, why they are as successful as they are.
Value Proposition #1 - Eliminates Risk of Golf Clubs Not Arriving When You Do
In my previous life, I spent many years in airports and airplanes traveling for business, and during my travels, I was fortunate enough to bring my golf clubs along. Most of my travel involved being on anywhere from 4 to 12 airplanes in a week for 40 weeks of the year. And with all of these flights, there were many connecting flights as well as many direct flights. The point? Whether it was directing or connecting flights, when my golf clubs were traveling with me, I was always a little anxious about my golf clubs arriving with me.
Personally, I couldn't care less if my underwear or golf shirts made it with me, but my golf clubs, well, that was a different story.
Now all that said, my golf clubs did arrive with me more often than not; however, there were a couple of instances - both on direct flights, no less - that they did not arrive, which was shocking to me. Shocking because I arrived at the airport in plenty of time and had my golf travel bag marked with priority stickers and my frequent flyer priority tags.
The first time they did not land in Vancouver, BC with me, it really wasn't a big deal. Not a big deal in the sense that I arrived early on Monday morning, was going to be there for the week, and was not playing golf until Friday. Furthermore, there were 12 flights a day on the airline I flew with arriving in Vancouver, so I knew that they would probably be safe and sound with me in my hotel room before I crawled into the crib on Monday night. Sure enough, they were.
The second time they shockingly did not arrive was in Orlando, FL. Again, I was there for business and was playing golf the day after my arrival. That particular time was more annoying as, again, I arrived in plenty of time at the airport, had priority stickers, and my frequent-flyer priority tags. Thankfully, they arrived early the next morning.
I think the moral of these stories is that direct flights or connecting flights, either way, there is the risk of golf clubs not making it. The odds are high that they will, but bad luck can enter the equation. Furthermore, these were business trips that I wasn't getting off a plane and hitting the first tee that afternoon or early the next morning on a bucket-list golf vacation or a golf vacation that you've been chomping at the bit through the cold winter months to get away on.
This leads us to the second value proposition...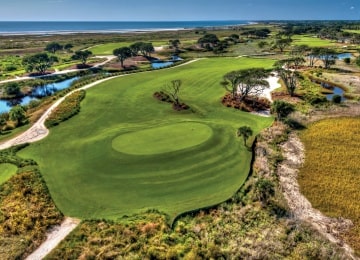 Value Proposition #2 - You're Using Your Own Golf Clubs
Worst case scenario, your golf clubs do not arrive with you on your bucket-list golf vacation to Pinehurst Resort or your annual golf getaway with your buddies to Scottsdale, and now your trip is not off to the start you were hoping for. Even more so, it's not like you're on a 7-day golf vacation where you have plenty of time for your clubs to arrive.
You're on our popular 5 night, 4 round Scottsdale Special golf vacation, and quite frankly, you want to use your own golf clubs, correct? Well, if they don't arrive on time, I don't know about anyone else, but I kind of like my golf clubs; even when I'm slapping it around, they still look and feel the best in my hands. Whether you use muscle-back irons like I do, with a custom shaft in your driver, or stock drivers and cavity-back irons, they will no doubt feel so much better than any rental set that you can get your hands on.
Granted, for the most part, rental clubs these days are likely the latest TaylorMade or Titleist golf clubs, but it's still not the same. The grips on rental clubs don't feel the same - likely worn out but not the same worn-out feel that you are accustomed to with your own golf clubs - the lie angles different, regular-flex shafts instead of stiff shafts, steel shafts instead of your graphite shafts, and lastly, the putter, well, it looks like a shovel in your hands.
Now on the flip side, you arrive in Scottsdale, AZ for your 5 night, 4 round golf vacation, with your first round of golf early the following morning. You and your crew check in at We-Ko-Pa Resort & Conference Center, settle in, meet for dinner and some drinks, plan the next days game on the Cholla Course, chirping and banter amongst you and your buddies, and all while having the comfort of knowing that your golf clubs are tucked away safe and sound in the Pro Shop at We-Ko-Pa Golf Club because you were the smart guy that used Ship Sticks (and you're been tracking them with the Tracking ID provided by Ship Sticks).
And, of course, within the chirping and banter, you can give your other buddies the gears for not using Ship Sticks because their golf clubs didn't make it all for "saving a few bucks."
Value Proposition #3 - Low Risk, Low Cost
Either way, when it comes to air travel, you are paying for your golf clubs to travel with you. Of course, the frequent flyers likely don't pay to have their golf clubs travel with them (I didn't). While the cost to check your golf clubs in is relatively low - likely in the ballpark of $35 each way, depending on the airline, their respective rules, etc. - the risk is still there that the clubs won't show up, as already discussed.
Meanwhile, with Ship Sticks, the starting cost for shipping clubs is relatively the same, with very little, if any risk. Do the math. I go with low-risk, low-cost any day of the week.
Now, there are cases when traveling a little further, ie., from New York to Pebble Beach - let's call it $100 each way, depending on the size of your travel bag, insurance you select, method of transporting, etc. - the cost of Ship Sticks will be higher. There's really no arguing that, BUT I can argue that if your clubs do not land with you on your Delta or United flight and do not arrive with you or make it to Pebble Beach in time for your 3 night, 3 round golf vacation, the savings are nill.
Why? Because rental clubs at Pebble Beach are $100 per golfer per round... 2 rounds of golf using rentals equals $200, PLUS the pain-staking emotional cost of not using your own golf clubs on your bucket-list golf vacation.
One thing to consider while planning your travel, whether to check-in your golf clubs or use Ship Sticks - really planning and budgeting for any part of your golf vacation - is that, for the most part, an extra $100 or $200 is not likely to make or break your golf vacation, especially if it means eliminating some unwanted stress. We deal with it all the time in the planning process of golf vacations that we put together for our customers.
Folks can get so set on a budget of what the lodging and golf vacation package price costs that there is no budging on it; however, they don't think about the cash they'll drop on the food, drinks (alcohol), and whatever other entertainment they partake in on their trip.
My point? I can't tell you how many times we get phone calls here at Golf Trip Junkie from groups on their golf vacation telling us how much fun they're having, and they desperately want us to get them another round of golf. Meanwhile, if booked in advance, the savings would have been much better. The same can be said about rolling with the low-risk, low-cost theory when it comes to ensuring your golf clubs get to your final destination in time. And, of course, playing with your own golf clubs makes the experience all that much better!
Value Proposition #4 - You're the 'Cool' Guy NOT Slugging Your Clubs Through The Airport
Next time you're traveling, take a step outside yourself and have a look around and watch the folks that are traveling with all sorts of luggage, golf travel bags, dragging them through any of the countless lines at an airport, and when applicable, slugging them through customs. Do they actually look like they're enjoying themselves? Take it from me; whether they have beads of sweat dripping down their foreheads or not, they're not!
Now, have a "look at yourself" and how you're feeling knowing that you're traveling with your carry-on suitcase and laptop. No sweat. No stress. Easy as pie.
There's really not much more to say here except that, take it from me, life is easier when you're not traveling with a golf travel bag.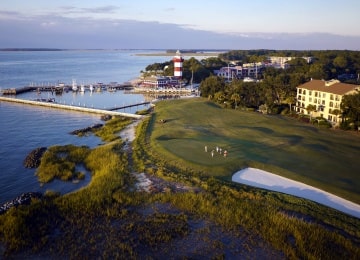 Planning a Golf Vacation?
Learn more about how the team at Golf Trip Junkie can help you plan a seamless, enjoyable, and memorable golf vacation. Call us at 877.634.0790 OR click on the Request Quote button for more details.