August 01st, 2023
#AskSean: What Should I Look for When Picking a Golf Destination?
Palm Springs, Pebble Beach Resort, #AskSean
Most of us have been on trips before, and we might have some idea of what organizing one entails. But if you've had some unpleasant experiences on your last golfing trip or if this one is your first and don't know where to start, I'm here to share a few staple know-hows on what you should look into when picking a golf destination.
So, whether you're looking for something more financially inclusive or a golf resort with an edge to challenge your swing, I'll make sure to include everything heavy on your noggin or, better yet, suggest a few that might surprise you.
Your Go-to Destination
Scorching hot weather is always best coupled with a golf destination near the beach if you're into the salty breeze and gorgeous scenery to complement your golfing experience.
However, it's also essential to pick a hotel that is in near proximity to the golf courses of your choice. Otherwise, you will lose time getting from A to B, which will not make sense financially or otherwise.
Whichever golf destination you decide to pick, always make sure that the advertised quality matches its cost. You can do this by reading reviews online and doing in-depth research to make sure you've covered as much ground as possible.
Budget and Expenses
Not a fun subject but one that has its place when planning a golf vacation. The good news is that you don't need a ton of money to have fun. There are a lot of affordable golf packagers to choose from regardless of your destination. I make it my business to put couple affordability with unforgettable experiences.
However, make sure that you are set with your budget and always include an emergency fund if something unforeseeable happens, like an unexpected purchase that you just had to have.
Also, depending on your destination, consider other amenities such as entertainment, restaurants, and other fun activities. For example, if you're contemplating golf resorts in Las Vegas, take into account that many attractions might be too fun to pass on with your golfing buddies.
So, make sure that you make a well-rounded decision on where you would like to go, which hotel to pick, how close the airport is if entertainment is an essential factor in your decision-making, and how everything fits in with your budget.
Golf Course Layout and Accessibility
Are you a beginner golfer or someone confident in their swing enough to choose a golf course with an edge? Of course, your answer might depend on your golfing party. Maybe some of you are beginners while the rest do pretty good for themselves, or perhaps you're all beginners, or all of you are seasoned golfers.
Whatever your answer is, it's important to consider your group's golfing level when choosing a golf course layout.
For example, many courses offer three sets or teas, and if you're a beginner group, you should choose one that is set between 4,000 and 5,500 yards with a slope/rating under 70.0/120 ideally.
However, if you and your buddies are into serious golfing and you're a fan of Palm Springs, Peter Dye resort is nothing short of a challenge for the unruly.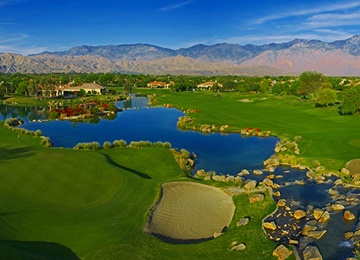 Look Into Tour Packages
I've had the opportunity to organize countless fantastic golfing trips and tour packages over the years, and one thing I've noticed when people come to me to help them organize a golf trip is that they feel less tense and pressured and actually enjoy letting someone else take care of their needs.
But don't feel pressured; if you take my tips to heart, you can definitely pull off a good golfing trip as long as you take everything from budget, location, amenities, and number of people into consideration.
But most of all, don't forget to enjoy yourself and practice your swing as much as you can in the company of your friends and family.