November 03rd, 2020
Top 5 Golf Trips for Fall and Winter
It's an understatement to say that rains and cold weather aren't to everyone's liking. Tropical settings begin to beacon as average temperatures drop lower and lower. Luckily for the golf enthusiast, there are plenty of warm destinations to choose from for a winter getaway.
First on most people's minds when the subject of hot (heh…) golfing locations is brought up will usually be Scottsdale, Arizona. But we've already covered the town and some of its courses in another article, as we did San Diego, home to Twin Pines, and the Monterey Peninsula.
Coachella Valley, California
Coachella is famous for its music festival, but those who aren't so keen on being around the type of crowd it attracts will be pleased to know the festival is held during the summer. Average temperatures from December to February range between 69 and 74 degrees and the area sees relatively little rain.
Around the Coachella Valley, you'll find the Jack Nicklaus Tournament Course, the Stadium Course, Players, and Celebrity courses at the Wells Golf Resort -- to name just a few of the areas many well-regarded golfing locations.
Pros:
Beautiful mountain and desert backdrop
Lots of things to do and places to visit, hiking in the nearby mountains
Cons:
Prices in California tend to be higher than in other regions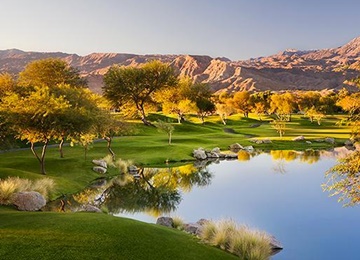 Naples, Florida
One of the warmest locations you can find, winter temperatures in the Naples area average around 77 during Winter. A lot of the best golf courses around belong to private clubs, but there's plenty for visitors as well: Old Corkscrew Golf Club, Naples Beach and Hotel Golf Club, Arrowhead public Golf Course, and many more.
Pros:
You might catch beach weather if lucky enough.
The city of Naples offers plenty of attractions
Cons:

The area gets crowded with tourists during the Winter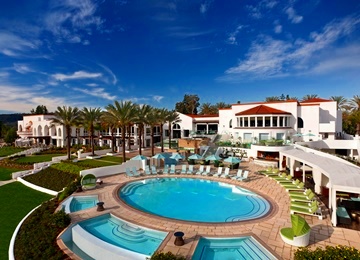 San Francisco, Northern California
Although it fell on hard times in recent years, visitors can still be delighted by the unique topography and architecture of San Francisco. Avid golfers can leave their hearts in one of the many courses in and around the city, at Spyglass Hill, Pebble Beach, TPC Harding Park, to list just the most popular.
Pros:
Lots of opportunities for sightseeing and entertainment in San Francisco
Nearby Monterey is popular with nature-lovers
Cons:

While not so bad as other areas of California, traffic in SF is not exactly light. And watch where you step!
Temperatures can vary significantly from day to day but rarely fall under 55 degrees.
Orlando, Florida
The nation's top touristic destinations are not short of highly-rated golf courses: Tranquilo Golf Club, the International Course, the New Course at Grand Cypress Resort; and many others that you can find adjacent to hotels (Waldorf Astoria, Ritz-Carlton).
See our golf packages and deals in Orlando, FL
Pros:
The many attractions in and around Orlando guarantee you will not get bored
You can take a day off for a family trip to Disneyland!
Cons:
The area usually gets crowded with tourists during this time of year, but CoVID might just keep them at bay in 2020.