August 08th, 2023
#AskSean: We're Planning a Buddies Golf Vacation and Never Been to Scottsdale, AZ - Why Should We Go There?
Golf Travel Ideas, Arizona, Scottsdale, #AskSean
I often get this question . . . "We're planning a buddies golf vacation and have never been to Phoenix-Scottsdale - Why should we go there over other places?" This is a great question and one that I enjoy answering and talking about. I enjoy it simply because I absolutely love playing golf in the Scottsdale-Phoenix area. The region is littered with great golf courses. The only downfall is that you simply cannot fit them all into one golf vacation!
There are always personal biases when anyone answers such a question. My personal favorites are We-Ko-Pa Resort, in particular the Saguaro Course (which is a fantastic Coore & Crenshaw design) and Troon North. Again, these are simply the ones that I would make a "must-play" for my own Scottsdale golf vacation. That said, as I touch on below, there are so many other must-plays in both Phoenix and Scottsdale.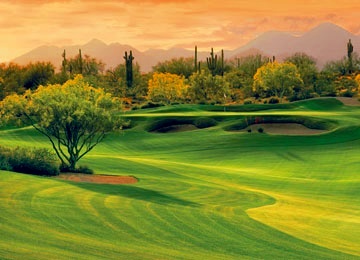 Scottsdale Golf - An Awesome Golf Experience
From a golf course perspective, the quality is very high in Scottsdale. With the likes of Troon North, TPC Scottsdale, Talking Stick, Grayhawk, and several others, golfers cannot go wrong. The course layouts are challenging, fun, and normally in superior shape, especially during peak season times following their overseeding.
Bordering Scottsdale, AZ, is Fountain Hills. Fountain Hills also boasts highly ranked golf courses, especially at We-Ko-Pa Resort - home of 2 highly ranked golf courses - the Saguaro Course and the Cholla Course. Also in Fountain Hills are SunRidge Canyon and Eagle Mountain.
In the Scottsdale and surrounding area, all of these golf courses I've mentioned are some of the most enjoyable I've played. They all have different offerings from views and layouts, which provide fun and challenge to golfers of all skill levels. That said, not all, but some are typically priced slightly higher than neighboring areas, as well as parts of the U.S.
When working with other groups, I always advise them of a great mix of golf courses for their golf vacation, with different levels of pricing without sacrificing the overall quality of golf courses.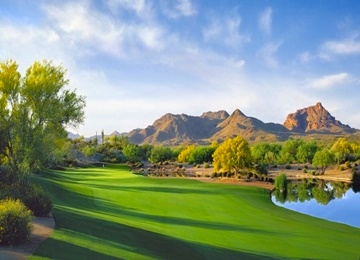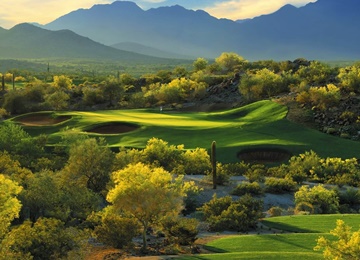 Suburbs of Phoenix - Great Golf Without Sacrificing Quality
On the outskirts of Scottsdale is Phoenix, as well as several suburbs of Phoenix (or on the outskirts of Phoenix), such as Goodyear, Mesa, Peoria, Litchfield Park, and Gold Canyon. Here you can find equally enjoyable golf courses as Scottsdale, however, at lower price points.
Some of my personal favorites are Wildfire Golf Club, Golf Club of Estrella, Las Sendas Golf Club, Quintero Golf Club, Wigwam Resort, and Gold Canyon Golf Resort, in particular the Dinosaur Mountain Course. All of these are fantastic golf course options, all at a great price AND without sacrificing quality!
The 101 & 202
For getting around in Phoenix-Scottsdale, the 101 & 202 Loops make travel from lodging to golf courses and back very easy. Of course, with any major metropolitan city, you always face rush hour traffic; however, from my recollection and experience, it's always been rather smooth and relatively stress-free.
The added bonus of the Loops connecting Phoenix-Scottsdale and any of the suburbs from a Phoenix or Scottsdale golf vacation package perspective is that it makes it very easy for us to incorporate a wide variety of golf courses with different price points. The end result: competitive golf package prices that don't sacrifice quality.
Very Little Rain, No Humidity
First and foremost, it rarely rains in Scottsdale - Knock-on-wood! On my first visit there years ago, in talking with one of the Pro Shop staff at the Golf Club of Estrella, he informed us that there were 134 days of no rain. Not bad. Not bad at all. Even more impressive, the golf courses were in fantastic shape.
One thing that I am a big fan of, especially after sweating my bag off playing golf yesterday on a very humid day, is that Scottsdale-Phoenix does not have that suffering and uncomfortable humidity. So if you're planning a golf vacation during the late spring or early fall months, in particular, it will be warm, but it will be a dry heat. NO humidity!
Furthermore, one of my favorite things about Phoenix-Scottsdale, especially during the winter months - and I've been told this by several people with typical aches and pains, is that once they get off the airplane and out of the airport, they no longer feel them. I hate to say it, but it's true that when you hit the age of 40 years old, the pains do creep in. Again, no humidity is definitely an added bonus.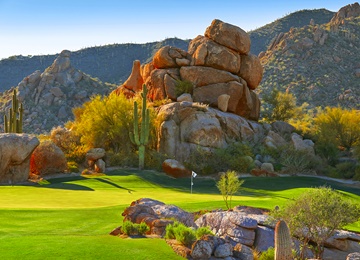 Have Golf Trip Junkie Help You Plan a Memorable Scottsdale Golf Vacation
Are you even more interested now in an exciting and memorable Scottsdale golf vacation? I'm sure you are! Our Golf Team is here to help plan the perfect getaway for you and your golf crew. To receive your complimentary quote, give us a call at 1.866.634.0790 OR take a stab at our Request Quote button directly below.