June 20th, 2023
The Golf Spectacular–GTJ's Most Popular Palm Springs Golf Package
Golf Travel Ideas, Palm Springs, California, PGA West, La Quinta Resort & Club
Without a doubt, The Golf Spectacular golf package is one of our most sought after and most popular Palm Springs golf vacations. With the combo of one of the best resorts in the valley and 5 great golf courses, this package is a must!
La Quinta Resort & Club–A 1st Class Experience
Groups will enjoy the first class lodging and amenities at La Quinta Resort & Club, with the entry level option being a Resort Casita. Upgrades, at an additional charge, are available for a Deluxe Poolside Casita or a Starlight Casita.
Included in the amenities is a full daily breakfast per golfer, which includes taxes and gratuity. Unfortunately, alcohol is not included, but I'm sure folks will manage just fine without that inclusion.
Unlimted Golf at PGA West
Your days of golf will be filled with UNLIMITED GOLF on 5 world-class golf courses, including two of which host the PGA Tour's CareerBuilder Challenge–PGA West Stadium Course and PGA West Nicklaus Course. Others on the property include the PGA West Norman Course, the Mountain Course, and the Dunes Course.
As mentioned, included in The Golf Spectacular golf package is unlimited golf. Essentially, the first round of each day is booked in advance, with same-day replay being available following the completion of the morning round. Also, golfers should take advantage of the complimentary arrival day round of golf. This round can be booked after 12:00 p.m. upon their arrival at La Quinta Resort.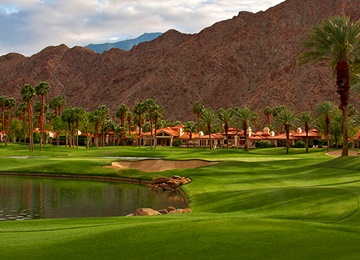 Take Advantage of Exceptional Savings!
Golfers will want to plan early as blackout dates do apply at La Quinta Resort & Club, meaning our golf tour operator wholesale rates with great savings will not apply.
This golf package fills up early. Contact one of our golf vacation specialists today to plan your Palm Springs Golf Spectacular golf vacation–877.634.0790.