July 03rd, 2023
Stay and Play at Orlando Reunion Resort & Golf Club
Golf Travel Ideas, Orlando, Reunion Resort & Golf Club
A recent visit to Orlando reinforced what I've been thinking all along, and that is that Reunion Resort & Golf Club is one of the top golf resorts, if not the top resort, in the Orlando area.
With three great golf courses designed by the legends of the game—Palmer, Nicklaus, and Watson—the avid golfer has a wonderful and varied selection of golf courses to choose from. Each golf course has different attributes, from wide fairways, both large and small greens, exceptional bunkering, elevation change, and, last but not least, plenty of challenges.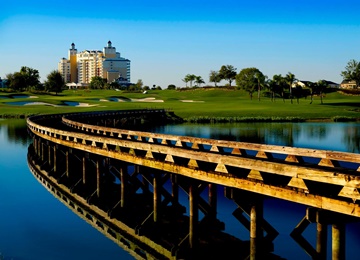 Palmer, Nicklaus, & Watson
From my perspective, Palmer is my favorite of the three. That's certainly not taking anything away from the Nicklaus and Watson courses. I've always enjoyed playing Palmer Courses, and this one certainly did not disappoint as it has, for Florida, very good elevation change, great looks off the tee, and a couple of short par-4s that bring risk-reward into the equation.
The Nicklaus Course is certainly the most challenging of the three, which typically falls in line with earlier designs of the Golden Bear—smaller greens that slope left to right, favor the high ball hitter, and left to right shot-making. Let's put it this way, I hit a draw and can hit it high enough, BUT my iron play, after not playing for 6 months because of injuries, well, was a crap-show, to say the least. Nevertheless, I certainly recommend the Nicklaus Course at Reunion Resort!
The Watson, often underrated, is a fun and challenging design that puts a premium on shot-making and execution. I think that for the average golfer, it would be a toss-up between Watson and Palmer as favorite golf courses at Reunion.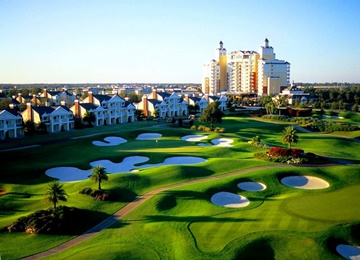 Villas at Reunion Resort & Golf Club
The villa offerings at Reunion Resort range from 1-bedroom to 3-bedrooms, with classifications of Deluxe, Superior, and Estate. We were fortunate enough to stay in the main hotel—Reunion Grande—which lived up to its 5-star rating. Our villa was perfectly furnished with all the amenities, as well as great views that we could hope for. Definitely everything that I had hoped for in Orlando!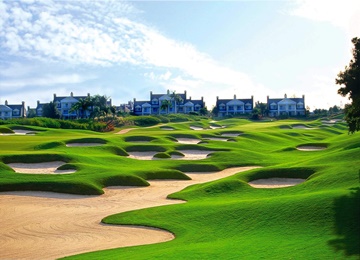 The Extras
We took advantage of the club storage at Reunion Resort, and I must say, everything ran even more efficiently than I could have hoped for. We arrived each day at the respective pro shops to find our golf clubs waiting and ready. No slugging our golf clubs from our villa to the course each day. Bottom line, I can't imagine it running any better than it did.
The shuttle service, which is a complimentary 24-hour service, was an excellent service that made the experience that much better. Certainly, it is worth taking for obvious reasons, whether alcohol is involved or not during your round of golf, it simply makes everything easier for the group.
In Reunion Grande, the top floor, the 11th floor, has a rooftop, as well as a restaurant—Eleven—which oozes first class through and through.
And last but not least, the meals at Reunion Resort were great! Being a guy, that seems to be big on our list. We chowed down on chicken sandwiches, burgers, and anything else we could get our claws into. Overall, we were never left disappointed!
Ready to plan your Orlando Reunion Resort golf vacation?
Learn more about how the team at Golf Trip Junkie can help you plan a seamless, enjoyable, and memorable Orlando Reunion Resort golf vacation. Call us at 877.634.0790 OR click on the Request Quote button for more details.