May 19th, 2022
The SilverRock Resort in La Quinta, Undergoing Major Development
Golf Travel Tips, California, La Quinta Resort & Club
Located in La Quinta, a desert resort city in California, the Arnold Palmer Classic at SilverRock Resort is a challenging golf course of 7,239 yards that covers over 200 acres with huge native bunkers and exquisite water features. The course has been recognized as one of the best in the country numerous times, having received the Zagat America's Top Golf Courses Award and having been rated the first in the Palms Springs Area by virtue of its best playing conditions.
However, at the moment, SilverRock Resort is undergoing major development. La Quinta has partnered with The Robert Green Company to bring TALUS to life, which is going to be the first destination of this kind in the valley. The development includes two stunning hotels, a limited collection of branded residences, and unique amenities that celebrate and reflect the spirit of the city. The core of this new community will consist of lively gathering places with guests and community members spending time together and taking a moment to appreciate their surroundings and the company of each other.
What Changes Will TALUS Bring to the SilverRock Resort in La Quinta?
TALUS will be a wellspring in the desert, alive with opportunities to nourish the body, mind, and spirit. Because the desert is a colorful oasis of culture, outstanding nature, and energy, TALUS is elevating it to the next level by:
Renovating the Ahmanson Ranch House as a themed restaurant
Building a luxury branded hotel with 134 rooms and a spa
Building a branded lifestyle hotel with 200 rooms
Building a 71,000 square-foot conference center
Building branded resort-style homes and condominiums
Building a retail and recreation space
Building a new golf clubhouse
The SilverRock Resort currently has a restaurant – the SilverRock Grill. There, golf players can relish lunch on the patio with a scenic backdrop of fairways, greens, and the astounding mountains that make La Quinta a true "gem of the desert". If you are interested in playing golf in La Quinta, we have two great offers for you and your buddies, which you can see below.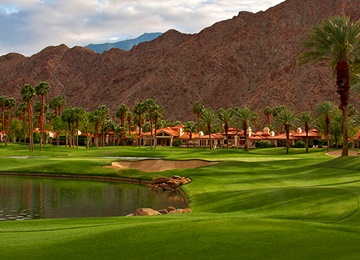 Improve Your Game with the Help of the Renowned SilverRock Resort Golf Instructors
A very interesting feature SilverRock Resort offers is the opportunity to improve your game as a golf player. You can learn the game or have on-course private lessons on the Arnold Palmer Classic Course. Whether you are a beginner willing to learn how to play or a veteran wanting to improve your skills, one of SilverRock's PGA instructors will gladly offer their services if you timely make your appointment. You can choose between 6 professional golf players, depending on their availability:
Randy J. Duncan – PGA General Manager & Director of Golf
James Mitchell Saenz – PGA Head Golf Professional
Becky Fossum – LPGA
Jack Crosley, III – PGA Golf Professional
Mike Wilson – PGA Golf Instructor
Joe Simonds – PGA Golf Instructor
Therefore, if you are passionate about playing golf in California and love La Quinta, make sure you stay up to date with the news concerning the development of SilverRock Resort by visiting the official page from time to time.