July 18th, 2023
Why Playing Golf at Indian Wells Resort in Palm Springs Is Worth the Trip
Golf Travel Ideas, Golf Course Reviews, Palm Springs, California
Established by Hollywood legends Lucille Ball and Desi Arnaz in 1957, Indian Wells Resort is filled with history and has a touch of old-school glamour. The resort is a premier golf destination in Palm Springs for everyone, from amateurs to veterans. It is home to two championship golf courses designed by the renowned architects Clive Clark and John Fought. Indian Wells Resort is the only facility in California to have both courses ranked in the Top 20 "Best Courses You Can Play" in the state by Golf Week Magazine. Whether you live close to Palm Springs or far away, if you're a golf enthusiast, playing at Indian Wells Resort should definitely be on your bucket list, and this mesmerizing destination won't disappoint you.
The two championship golf courses at Indian Wells Resort feature 36 holes of outstanding golf on tracks immaculately landscaped and impeccably conditioned, with some of the most spectacular vistas in the area. The combination of mountain views framed around palm trees, enticing water features, and flowering plants make the experience at the resort one of the most aesthetically pleasing in Southern California. Still, there are other reasons why you should plan a golf trip to Indian Wells Resort, as this amazing place has a lot to offer players and their families or friends.
The Celebrity Course, One of the Most Meticulously Landscaped Courses in Palm Springs
As the shorter and more picturesque of the two golf courses at the resort, the Celebrity Course features more water and plays a bit easier than the Players Course. Superb flower beds are situated near every tee area, and tropical plants and other native foliage line the fairways and green complexes. There is a cascading stream winding throughout the rolling terrain, and waterfalls often flow into greenside ponds. The resulting environment is one of the most breathtaking you'll encounter on a golf course. Many fairways are parallel, separated by vegetation and mounding creating a bowl effect.
There is a tremendous amount of sand on the Celebrity Course – in fact, there are 97 bunkers that are located near the landing zones along the fairways or greenside. These white sand traps are consistent and offer sufficient recovery opportunities near the greens, but the high-lip nature of the fairway bunkers can be penal. Water is another significant feature of this golf course. Most holes have water hazards in play in some form. Those on the front are mostly along the perimeters, but the back nine has some beautiful and very challenging water holes.
The Players Course, Reminiscent of a Parkland Course
For some golf courses, their name really fit, and the Players Course is one of those courses. It can play long and tough, with strategic danger that must be avoided, and it doesn't have big contours or rolling terrain but relies on length, bunkers, water, and guarded greens to make golfers play well to score low. The signature hole of this course is the 146-yard par 3 17th, with a scenic pond fronting the green, as well as towering mountains and numerous trees creating the background. Because there is a bunker on the right, another in the back, and water on the front and left, the only safe place to hit is the putting surface.
Featuring dynamic bunkering, generous fairway corridors, and undulating topography, the Players Course is aesthetically fascinating and challenges golfers of any skill level. The golf course delivers formidable challenges and variety. Moreover, the wide range of hole lengths and shapes will offer you the opportunity to use all the clubs in your bag throughout your round of golf and test every aspect of your game. Golfers have seven different tee boxes to choose from, ranging from 5,100 to nearly 7,400 yards. A variety of trees and plants are featured throughout the Players Course and complement the scenic mountain views.
Are you interested in playing golf at Indian Wells Resort in Palm Springs? If so, check out two of our best golf packages for this great destination below!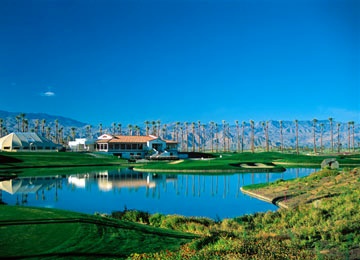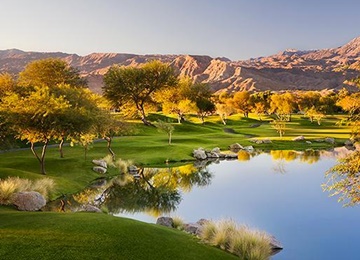 Savor Delicious Food at the Newly Renovated IW Live Restaurant of Indian Wells Resort
As one of the best restaurants in Palm Springs, IW Live is open for breakfast, lunch, and dinner and offers an Old Hollywood ambiance with a retro atmosphere reminiscent of the swanky vintage culture of the '60s. The restaurant features American and Italian classics and one of the finest wine collections in the desert. At IW Live, you can relish appetizers, salads, thin-crust gourmet pizza, seafood, pasta, and steaks. To complete the ambiance, the restaurant has live music almost every night.
The rooms at the resort feature individual heat control, high-speed Internet access, individual air conditioning control, a safe, a flat screen TV, dual line phones, and in-room dining during regular dining hours. Finally, Indian Wells Resort offers numerous other amenities in addition to golf, including:
a heated swimming pool
a hot therapy pool
two outdoor tennis courts
a poolside bar
massage services
a fitness center
The Takeaway
The Southern California Desert abounds in chic hotels, stunning architecture, Hollywood legends, and a story to tell. As Hollywood royalty began flocking to the area in the '50s and '60s for the temperate weather, Indian Wells Resort grew into a celebrity destination in its own right. Today, the resort is one of the most popular golf destinations in Palm Springs, and for a good reason. If you want to experience old-school glamour and championship golf, gather your family or friends and book a vacation at Indian Wells Resort!