April 26th, 2023
Play the Amazing Golf Courses at the Indian Wells Golf Resort in Palm Springs
Golf Travel Ideas, Golf Course Reviews, Palm Springs, California
Located minutes away from the Palm Springs International Airport, this resort features two splendid championship golf courses designed by John Fought and Clive Clark. It opened in 2006 and is in Golfweek's Top 20 "Best Courses You Can Play" in California. This desert masterpiece abounds in diversity, playability, and challenge, featuring picturesque mountain views, stunning water features, and a memorable golf outing for players of every level. The Indian Wells Golf Resort, an exquisite 53,000-square-foot clubhouse, offers a wide variety of upscale amenities to complement your golf experience.
The Players Course, a Classic American Design
Designed by John Fought, this golf course opened in the fall of 2007. It features sculpted bunkers in a style reminiscent of Riviera, and the architect seamlessly integrated numerous stately trees found on the original property into the new layout. Most holes are oriented to take advantage of breathtaking views of the San Jacinto, Santa Rosa, and San Bernardino mountain ranges. The golf course can be long and challenging, with strategic danger that must be avoided. It doesn't have big contours or rolling terrain. However, the Players Course relies on length, bunkers, water, and greens to make golfers play well and score low.
The front side is pretty gentle rolling terrain and has good water features. It feels more like a parkland course than something you'd find in the desert. The tight fairways, sufficient length, and gimmick-free layout gives the Players Course a championship feel you can find on PGA Tour golf courses. There is a risk-reward opportunity at the short par-4 11th, where longer hitters may try and drive the green that is guarded by water on both sides. The combination of mountain views framed around the lush palm trees, enticing water features, and flowering plants make the experience at this course one of the most aesthetically pleasing in Southern California.
If we've sparked your interest in playing golf at the Indian Wells Golf Resort, check out two of our best golf packages below!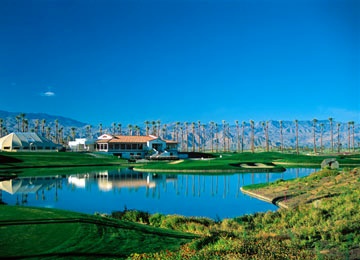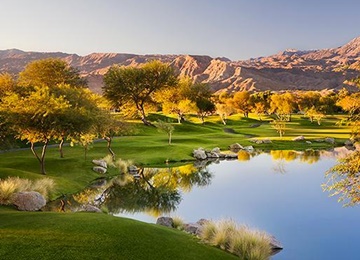 The Celebrity Course, Unrivaled in Beauty and Playability
Offering spectacular mountain views, the Celebrity Course also features undulating fairways and flowing water, such as streams, brooks, and lakes connected by striking waterfalls. It was designed by Clive Clark. While the Players Course is more expansive and more demanding in length, the Celebrity Course is more visually stunning: more undulation in the terrain, more mountain views, more water features, and more creativity in design. The holes 4th to 8th are a great collection of terrain, length, and different features. Some play uphill, whereas others play downhill, and they all have scoring and danger opportunities.
The Celebrity Course is undoubtedly one of the most meticulously landscaped golf courses in Palm Springs. Vibrant flower beds are situated near every tee area, and tropical plants and other native foliage line the fairways and green complexes. There is a cascading stream winding throughout the rolling terrain, and waterfalls often flow into greenside ponds. The back nine heats up on the 13th, with water coming into play on every hole from there to the clubhouse. Perhaps the most difficult hole is the long par-4 5th that is uphill all the way. The green also has a slope in front that will keep most run-up shots from making it to the surface.
The Takeaway
Situated within walking distance from several luxury hotels, the Indian Wells Golf Resort is perfect for a weekend getaway or a longer golf vacation with your friends or family. Founded in 1957 by Hollywood legends Lucille Ball and Desi Arnaz, the Indian Wells Resort Hotel is filled with history and has a generous touch of old-school glamour. In between golf rounds or at the end of the day, you and your loved ones can dine at Vue Grille & Bar, a great place where you can find award-winning cuisine from an expert culinary team, craft cocktails, a wide variety of wine, craft beers, and friendly service. The Indian Wells Golf Resort is a true gem in Palm Springs, and if you're a golf enthusiast, it should definitely be on your bucket list.