November 08th, 2022
A Relaxing Getaway to Fairway at the Reunion Resort and Golf Club in Orlando
Golf Travel Ideas, Golf Course Reviews, Orlando, Reunion Resort & Golf Club
Located within Four Corners, the unincorporated suburban community in Osceola County, and host to the Ginn Open from 2006 to 2008, Reunion Resort is a golf destination that will excite and relax you at the same time. With three signature golf courses, seven restaurants and bars, a water park with a lazy river, and a fitness center, this resort should be on the bucket list of every player. The courses at the Reunion Resort were designed by some of the most famous golf architects the world has ever known – Arnold Palmer, Jack Nicklaus, and Tom Watson – and now wear their names.
Previously known as The Legacy Course, the golf course designed by Arnold Palmer sprawls out over rolling terrain and offers 6,916 yards of enticing play with dramatic elevation changes. It was built in 2004, and the greens and fairways are both Tifeagle Grass. The Arnold Palmer golf course is situated on a 2,300-acre former citrus grove. Having a variety of shot-making opportunities ensured by six tee locations on each hole, the golf course lies within natural preserve areas, with wide fairways and strategically placed bunkers across all eighteen holes.
The following is some information golf players may want to know about each hole of the Arnold Palmer course at the Reunion Resort in Florida:
Hole 1: par 4, offers the perfect position for a short iron approach
Hole 2: par 3, with a 50-foot drop in elevation, which makes it play one or two clubs short
Hole 3: par 4, challenging you to find the fairway off the tee and reach the green
Hole 4: par 4, requires a precise short iron to hold this shallow, firm green sloping dramatically from back to front
Hole 5: par 3, with multilevel green, it's bound to be a good score
Hole 6: par 4, which requires a critical club selection for a realistic opportunity at a birdie putt
Hole 7: par 4, posing the ultimate risk-reward decision on the tee, it's one that many players can reach with their drives
Hole 8: par 4, for which you'll need a mid to long iron approach to hold this large, gently sloping green
Hole 9: par 5, where a gently sloping green allows for birdie opportunities
Hole 10: par 5, a three-shot hole for basically all golf players
Hole 11: par 4, where you'll face a large putting surface that might be challenging to navigate, depending on the flagstick position
Hole 12: par 4, club selection is critical, as depth perception might be difficult
Hole 13: par 4, where the green is guarded on the left by water and on the right by several bunkers, and the hole requires a well-struck tee shot
Hole 14: par 3, with natural marsh surroundings, birdie opportunities are countless for players hitting iron shots with precise distance in mind
Hole 15: par 5, where the tee shot can be very demanding but rewarding for a fearless shot over the water
Hole 16: par 3, which requires you to check the flagstick location and wind conditions for a good shot
Hole 17: par 4, where you should aim for the large tree in the center of the fairway
Hole 18: par 4, with breathtaking landscape, you'll have to take extra clubs for the uphill and expansive green
If we've sparked your interest in playing at the Reunion Resort and Golf Club in Orlando, Florida, check out the best offers we currently have for this amazing destination below.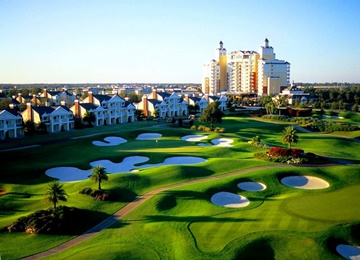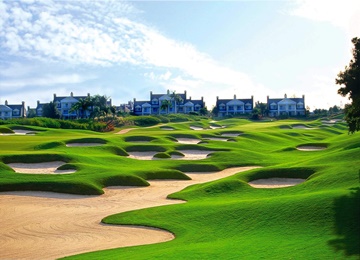 Playing the Jack Nicklaus Golf Course, a Challenging and Fun Experience
Built in 2006, the Jack Nicklaus golf course at the Reunion Resort was previously known as The Tradition Course. It has a parkland-style layout, smooth and flowing, with long horizon lines and elevated greens and tee boxes. However, you shouldn't let yourself be fooled by the well-manicured Jack Nicklaus course, as it can be as deceptive as it is stunning.
It's designed to tempt players into hitting risky shots with potentially big payoffs, but you should carefully pick your club and estimate your shot to score big. This golf course challenges the player to step up to the ball with a thoroughly organized series of shots in mind. The Jack Nicklaus golf course is forgiving off the tee, but undulating greens place emphasis on precise iron play.
The Tom Watson Golf Course Will Put a Premium on a Solid Short Game
This golf course was designed in 2004 and was previously known as The Independence Course. It uses strategic bunkering and hilly terrain as a defense, and with barely any water in play, bunkers line the fairways, which are generally wide. With extreme changes in elevation of up to 50 feet, which are rare for Florida, the Tom Watson golf course features a series of long, punishing par fours. Highlighted by firm and wide rolling fairways, the 7,154-yard Tom Watson course is as much about strategy as it is about length.
Some of the most challenging and memorable holes are perhaps:
The 7th, featuring a large waste bunker between the tee and green
The 13th, which plays to a difficult raised green
The 17th, where sand traps skirt the fairway en route to a narrow putting surface
Dine at the Restaurants of Reunion Resort, Where They Have Something for Everyone's Taste Buds
From steak to sushi, you'll find something to your liking at one of the seven restaurants and bars of Reunion Resort and Golf Club. These are only some of the places where you can dine and spend quality time with your family or golf buddies:
7593 Chophouse: you can enjoy fresh seafood and steaks that are delivered every day, with enhancements made with fresh vegetables and bold spices
The Grande Lobby Sushi Bar: here, you can relish some expertly prepared sushi and a bar full of creative and innovative cocktail options
Eleven: this elegant restaurant is located on the rooftop of the resort, which offers picturesque views of Orlando, accompanied by live entertainment nightly
Drifters Grille: tasty snacks, light meals, and ice cream treats are only some of the things you can have at this bar, situated within the Water Park
Lastly, it's important to note that Reunion Resort has a water park with a sensational water slide and a 1,000-foot lazy river, where you can relax in shaded cabanas, enjoy lawn games, and relish classic poolside food and beverages with your loved ones or friends. You can also play a set of tennis in between golf games, as the resort also has a tennis center.
The Takeaway
By choosing to have a weekend getaway or a longer vacation at Reunion Resort and Golf Club, you will experience the Florida lifestyle and golf like nowhere else. With the three signature golf courses it features, which will put your skills and thinking to the test, this resort is a great destination for players with any level of experience, from beginners to veterans.