August 15th, 2023
Priceless Perfection at Pinehurst Resort
Pinehurst Resort, Golf Travel Ideas, North Carolina, Pinehurst No. 2
9th Hole - Pinehurst No. 2
Pinehurst Resort is a golf destination where priceless and perfection collide, creating one of the most memorable golf vacation experiences for all golfers. From beginning to end, each golfer in each group is presented with challenges, prestige, relaxation, and pure fun in all facets of their Pinehurst golf vacation.
The obvious golf course choice of the 9 different layouts at Pinehurst Resort is Pinehurst No. 2. This historic Donald Ross design, later renovated by the world-renowned golf course architect team of Coore & Crenshaw, has hosted several U.S. Opens, most recently the 2014 Men's and Women's Championships.
Pinehurst No. 2, which opened in 1907, is synonymous with Donald Ross and great golf architecture. The following quote by the golf course design legend says it best about his masterpiece:

"The fairest test of championship golf I have ever designed."
- Donald Ross
Fun Golf Is Pinehurst
Payne Stewart Statue - Pinehurst Resort
When navigating your way through the Clubhouse at Pinehurst Resort, on the way to checking in for your round on Pinehurst No. 2, while on your 5 Night, 5 Round Max Out at Pinehurst Golf Package, you will be greeted with historic and special tributes to the game. Be sure to give yourself plenty of time to stroll through the hallways at a relaxing pace to take in all that it offers.
Upon finishing up your round on Pinehurst No. 2, hitting your approach shot into the 18th green, you will most likely be greeted with applause from the gallery of golfers who have finished up their round and enjoying a relaxing cold beverage. Most notable of those present in the "gallery" is the statue of the late Payne Stewart. You, like many other golfers before you, will want to pose for a photo with this wonderful tribute to the Hall of Famer!
Donald Ross also has his hand in a couple of other golf courses at Pinehurst Resort, namely No. 3 and No.4 (the original design, with Tom Fazio, now stated as the course designer). His touch on the famed property is unmistakable.
Pinehurst No. 8
Other great golf architects have graced the hollow grounds of Pinehurst Resort, such as Jack Nicklaus, Tom Fazio, George Fazio, Robert Trent Jones, Rees Jones, and Ellis Maples.
Pinehurst No. 8 is where you will enjoy the Private Club experience. With 420 acres of rolling terrain and wetlands, Tom Fazio took full advantage of what the earth presented to him. A visually appealing, challenging, and fun championship golf course.

"Fun golf is Pinehurst. Fun golf is playing links golf. Fun golf is learning how to maneuver the ball on the ground and give yourself options. One of the hardest up-and-downs is when you have options."
- Tiger Woods
A 5-Star Golf Experience
#13 - Pinehurst No. 2
Speaking of fun and challenging... Enter Jack Nicklaus' design of Pinehurst No.9, playing at 7,122 yards. Each golf hole was designed with diversity in mind, with tall pines, groomed waste areas, and a natural variety of lakes, all signatures of the No. 9 course.
The championship courses at Pinehurst Resort - No. 2, No. 4, No. 7, No. 8, and No. 9 - are a golfer's dream in themselves for a Pinehurst Resort golf vacation. Mix these in with the other golf courses on the property, in particular Pinehurst No. 3 and No. 5. No. 3, and you have yourself quite the golf vacation experience!

"I just don't think people understand how good those holes are. They're filled with interest. They're shorter, but there's plenty of character to them."
- Ben Crenshaw
The Carolina Hotel - Pinehurst Resort
There is no shortage of classic and brilliant lodging options at Pinehurst Resort, first and foremost with The Carolina Hotel. A beautiful 5-star hotel, the combination of rooms and dining options is spectacular! Looking for different lodging options? If so, you will definitely want to consider The Condos at Pinehurst, which are ideal for groups of guys looking for the priceless Pinehurst golf experience while enjoying the idea of lounging around in their own private golf retreat.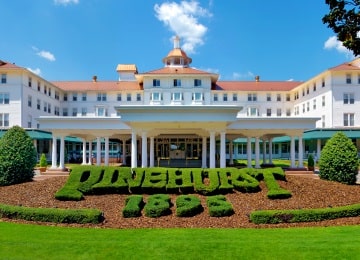 So Much Golf, So Little Time
The Condos Living Room - Pinehurst
Speaking of larger groups, The Villas are also a perfect alternative for larger groups. With 4 separate bedrooms per villa, the group will enjoy a common area where they can gather and watch some golf or any sporting event they desire. Perfect to kick back, relax, and enjoy a cold beverage!
Furthermore, one of the exceptional features of The Villas is the opportunity to have a chef put together some seafood and beef options in your own private patio. Does it get any better than that?
When on your Pinehurst golf vacation, surely you will want to take advantage of their world-class dining options. In particular, our personal favorite, The Ryder Cup Lounge, is a wonderfully relaxing dining experience! Of course, what would Pinehurst Resort dining be without a tribute to the great Donald Ross - the Donald Ross Grill?
In addition to the exceptional dining ambiance at Pinehurst Resort, the professional staff throughout the entire resort are a pleasure to deal with. On our visit, they were nothing but friendly, professional, and a delight to be around. You should expect nothing less!
One of the most appealing parts of traveling to Pinehurst Resort is simply how relaxing and low-key everything is. If you are looking for relaxation along with world-class golf, then Pinehurst Resort is definitely the place for you and your golf companions!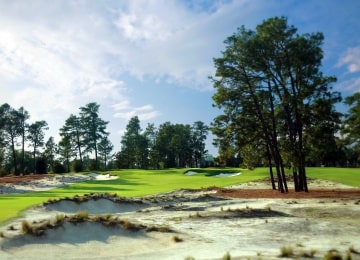 GTJ Specializes in Pinehurst Golf Vacations
To get started on your golf vacation planning process, fill out the Golf Vacation Request Form, and one of our golf travel specialists will get back to you with a competitive rate that will have you guys chomping at the bit to Stay & Play at Pinehurst Resort.