August 16th, 2023
Destination Kohler, A Wonderful Golf Destination in Wisconsin
While Kohler is a small village in Sheboygan County, Wisconsin, located along the Sheboygan River, it is home to four championship golf courses, all designed by the legendary Pete Dye. Destination Kohler prides itself in having been the host for two U.S. Women's Opens, a U.S. Senior Open, three PGA Championships, and the first public course in over 25 years to host the Ryder Cup.
In 1998 and 2012, Destination Kohler hosted the U.S. Women's Open. The first championship was won by Se Ri Pak, who inspired a whole generation of Korean golf players with her sudden death victory at the Blackwolf Run course. Fourteen years later, Na Yeon Choi came out victorious, winning her first Major championship.
The three PGA Championships that took place at Destination Kohler were in 2004, 2010, and 2015. Vijay Singh won his third Major at the Whistling Straits course in 2004, Martin Kaymer earned his first Major in 2010 in a dramatic play-off at the same golf course, and Jason Day won over Jordan Spieth in 2015. During the U.S. Senior Open in 2007, Brad Bryant made his second-biggest comeback as a winner, also at Whistling Straits.
Finally, in the 43rd Ryder Cup at Whistling Straits, Team USA, led by Captain Steve Stricker, enjoyed a historic 19-9 victory over Team Europe. If the rich history of Destination Kohler left a good impression on you, we have great news for you – you can play golf on a renowned course in Wisconsin with your friends by choosing one of our offers below!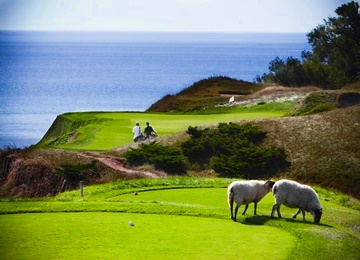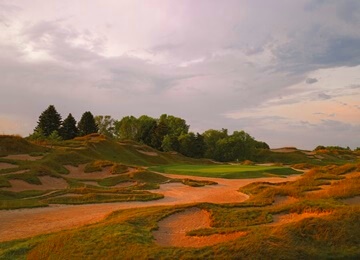 The Famous Golf Courses and Stylish Restaurants at Destination Kohler
This breathtaking golf destination was founded in 1873 by John Michael Kohler during a financial panic. He survived because he constantly focused on leading-edge design and a superior level of quality. The first bathtub was made from a horse trough, and Kohler created a garden community at the nearby factory gate because he strongly believed that "workers deserved not only wages but roses as well."
The centerpiece of his plan was a dormitory for European immigrants known as The American Club, where the inhabitants had the opportunity to learn the English language and subsequently obtain their American citizenship. Nowadays, the American Club is a stunning 5 Star 5 Diamond resort hotel on the National Register of Historic Places, and the best thing about it is that you, too, can experience what it has to offer.
Destination Kohler has five golf courses, namely:
Whistling Straits – situated along the Wisconsin coastline, the Straits and the Irish are throwbacks to the freshness of Ireland, with two golf courses of dynamic contrast.
Blackwolf Run – Chief Blackwolf and his Winnebago tribe once resided in the Sheboygan River Valley, and today, you can find the River, the Meadow Valleys, and the Baths of Blackwolf Run in the same river basin.
After playing a challenging game, it is only natural to want to relish a delicious, fancy meal. Luckily, the opportunities at Destination Kohler abound, as it has seven restaurants you can pick from:
The Immigrant Restaurant – it is the recipient of the Wine Spectator's "Best of Award of Excellence."
The Wisconsin Room – this is the original dining hall of the immigrant workers, which now features innovative cuisine in a very elegant atmosphere.
The Horse & Plow – it was once the taproom for the Kohler Co. workers, but today, it is a casual, historic tavern featuring a delicious menu.
Taverne on Woodlake – overlooking Wood Lake, this restaurant is known for its tasty wood-fired cuisine and enduring philosophy of gracious hospitality.
Blackwolf Run Restaurant – this rustic American grill offers a panoramic view of the Pete Dye courses of Destination Kohler.
Whistling Straits Restaurant – featuring cuisine with a British influence, this restaurant offers a superb view of Lake Michigan.
River Wildlife's Lodge Restaurant – this is a private, rustic log cabin covering over 500 acres of hardwood, and you will have to make a reservation in advance if you would like to dine there.
Lastly, if you want to take your stay at Destination Kohler up a notch, you can try one of their numerous amenities, such as the Kohler Waters Spa. It offers rejuvenating experiences meant to help you discover the natural, restorative power of the mineral-rich waters of the earth.
The Exquisite Lodging Options at Destination Kohler
Destination Kohler features three lodging options, each with a unique ambiance. The American Club Resort, iconic for its hospitality, is a five-star, five-diamond hotel with over 100 years of history. It was a dormitory for single male immigrant employees of Kohler. In 1981, it was reborn as a magnificent resort hotel. However, The American Club Resort has retained its historical richness and storybook charm.
Another lodging option is the Inn on Woodlake, a stunning three-diamond hotel on the shore of Wood Lake. Perhaps the greatest part about it is that it has its own beach, where you can relax in privacy and enjoy nature. The Inn on Woodlake features contemporary guest rooms, a state-of-the-art meeting space, and ten multi-bedroom suites. Finally, if you would like to spend your getaway in a cabin, Destination Kohler offers you this opportunity, too.
The Takeaway
There is so much more about Destination Kohler that we did not cover here so that you can discover what this amazing place has to offer yourself. Whether you go there with your buddies or with your family, there will be plenty of activities for everyone, regardless of age, and everyone will be able to relax and take in the breathtaking views surrounding Destination Kohler. So, if we have sparked your interest, choose one of our packages for this golf destination or customize your vacation with our help to be able to relish the perks of this awesome place.