June 09th, 2022
What Kiawah Island Golf Resort in South Carolina Has in Store for You
Golf Travel Ideas, South Carolina, Kiawah Island Resort
The Kiawah Island Golf Resort has a rich history, having opened in 1976. Today, in addition to the five exquisite golf courses it features, it offers numerous exciting activities, such as surfing lessons, kayaking tours, archery lessons, and glass fusing lessons. What makes Kiawah Island Golf Resort even greater is that it's environmentally responsible, protecting the unspoiled surroundings and native flora and fauna in the area. It's fully committed to sustainability and conservation.
Naturally, most people go to Kiawah Island to play golf, and they can choose between the following unique courses to enjoy some quality time with their friends or family:
The Ocean Course – designed by Pete Dye and located in the eastern part of the island, this golf course has the most seaside holes in the Northern Hemisphere, with 10 hugging the Atlantic Ocean and 8 running parallel to those
Osprey Point – designed by Tom Fazio and renowned for its playability, each hole of this golf course is memorable, with four challenging par-3s, four distinctive par-5s, and ten outstanding par-4s, ranging in length from 340 to 461 yards
Oak Point – designed by Clyde Johnston, this golf course is the proud recipient of the 2019 Charleston "Golf Course Owners Association Course of the Year" and offers a superior playing surface with regrassing in Paspalum and strategic challenges through a refreshed design
Turtle Point – designed by Jack Nicklaus, this golf course reopened in late 2016, and the improvements made to it include regrassing with Paspalum, laser-leveling all tee boxes, rebuilding all bunkers, and reestablishing irrigation throughout the course
Cougar Point – designed by Gary Player, this golf course, which won over Kiawah Island golf players with its dramatic marsh vistas and great playability, has short and long par-4s, great risk or reward 5s, and scenic, challenging par-3s
From tee to green, all five championship golf courses are grassed with Paspalum to provide superior puttability. In 2012, when Northern Ireland professional golf player Rory McIlroy holed the winning putt at the PGA Championship at The Ocean Course, he became the first to win a major championship on seaside-friendly Platinum Paspalum grass. Subsequently, the players universally praised the putting surface and came up with the idea to switch from Bermuda to Paspalum.
If you're interested in a weekend getaway at the Kiawah Island Golf Resort with your buddies, we have two great offers for you, which you can see below. However, if you want a customized golf vacation, we will gladly help you choose the best options for your budget and preferences.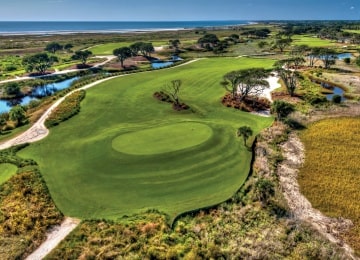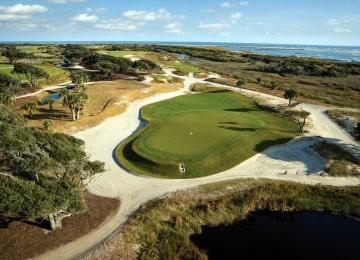 Dine at One of the Fifteen Restaurants of Kiawah Island Golf Resort
The locations of the restaurants at Kiawah Island Golf Resort are at The Sanctuary, golf clubhouses, or around the island. You can decide where you want to enjoy a hearty meal after a challenging game. These are some of the most distinguished restaurants and bars at Kiawah Island Golf Resort, and if you choose this golf destination, you are bound to discover a lot more!
The Ocean Room – as the premier steakhouse on Kiawah Island, this elegant restaurant serves masterful dishes crafted from locally sourced produce, beef, and poultry, having a seasonally changing menu
The Ryder Cup Bar – this bar is perfect for everyone, whether you are gathering your friends for a post-round drink, grabbing a casual lunch with your family on the veranda, or admiring the sunset over the ocean
The Atlantic Room – without a doubt, this is Kiawah Island's signature seafood restaurant, as it serves modern American cuisine with fresh regional catches sourced from local fishermen
The Jasmine Porch – this restaurant serves genuine Lowcountry cuisine at breakfast, lunch, brunch, and dinner, having been named the "Best Downhome Cookery" by the prestigious Andrew Harper's Hideaway Report
The Signature Gourmet Coffee Shop – open daily, golf players and their guests will find a gourmet coffee selection and fresh pastries from a nationally recognized Executive Pastry Chef, as well as hot and cold breakfast and lunch sandwiches and a wide variety of grab-and-go breakfast options
By virtue of the multitude of restaurants and bars it features, Kiawah Island Golf Resort is suitable for any budget, so if we've sparked your interest in this breathtaking destination, don't hesitate to book a package. Whether you'd like to treat yourself to a three-course meal at one of the fancier restaurants or just grab something less expensive to eat, Kiawah Island Golf Resort has what you're looking for. Here are two more golf vacation offers for you and your guests!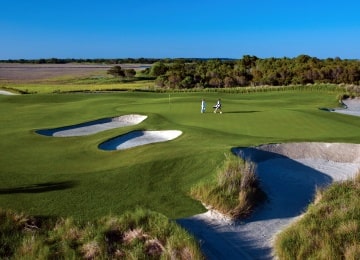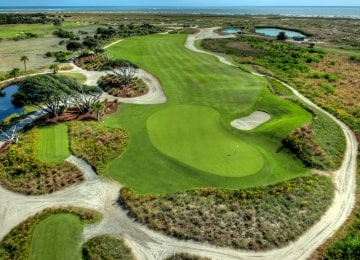 Rest at Kiawah Island Golf Resort's Exquisite Hotels, Villas, or Cottages
Would you like to enjoy a stay in the five-star, luxurious The Sanctuary Hotel? Gather with your family in a delightful villa? Live the resort lifestyle in a breathtaking home? Or vacation on the edge of the Ocean Course in a golf cottage? Kiawah Island Golf Resort hosts all of these accommodations, and the staff will go to great lengths to make your golf vacation a pleasant, memorable experience. Here are the accommodations you can pick from:
The Sanctuary Hotel – only 21 miles from Charleston, this luxury beach resort hotel delivers five-star service and unmatched accommodations, having 255 guestrooms
Resort villas – the Kiawah Island villa rentals grant you exclusive access to the golf resort's top-notch amenities, including interactive pool complexes in the Night Heron Park and West Beach Village
Private homes – if you choose the private homes at Kiawah Island Golf Resort, you will wake up in a gorgeous setting on a scenic, unspoiled barrier island right by the beach or your dream golf course
The cottages at The Ocean Course – this excellent accommodation provides sweeping views of the Atlantic Ocean, and the access you will have to championship golf will complement the amazing collection of the four cottages residing on the sea and course
Kiawah Island Golf Resort, the Perfect Destination for You and Your Family
Because it hosts so many more activities than golf, Kiawah Island Golf Resort is the ideal vacation destination for you and your family, as everyone will find something enjoyable and exciting to do or even learn and become interested in a new activity. The following are only a few of the numerous activities Kiawah Island Golf Resort offers to its guests:
Core and stretch
Kayaking tours
Bike rentals
Archery lessons
Dolphin encounters
Art studio
Reptile round-up
Surfing lessons
Glass fusing lessons
Painting in the park
Fitness
Movies in the park
Kiawah Island Golf Resort is one of the most wonderful and exciting golf destinations in the U.S. Guests have the opportunity to enjoy superior accommodations and recreational activities to experience the complete resort lifestyle. So, gather your friends or family, book your vacation, and get away from the hustle and bustle of the city!