July 25th, 2023
The JW Marriott Phoenix Desert Ridge Resort & Spa - The Best Golf Destination in Arizona
Golf Travel Ideas, Golf Course Reviews, Arizona, Scottsdale
If you're looking for a unique golf destination with picturesque views and luxurious amenities, the JW Marriott Phoenix Desert Ridge Resort & Spa is definitely for you. Located in the Sonoran Desert, the resort is home to the outstanding Arnold Palmer and Nick Faldo golf courses, offering breathtaking sights of the McDowell Mountains.
It opened at the end of 2002, being Arizona's largest resort, and was inspired by the majesty of the nearby Grand Canyon. The JW Marriott Phoenix Desert Ridge Resort & Spa covers over 300 acres, where Phoenix meets Scottsdale.
The Nick Faldo championship golf course is public and has large greens, ample landing areas off the tee, and over a hundred bunkers. It proposes a slight variation from the usual desert-theme courses. Featuring generous fairways and multiple tee boxes, the Nick Faldo golf course expands over 174 acres. While enjoying a stimulating game, players can admire the spectacular view of the old saguaro cacti and numerous sand bunkers, reminiscent of the Australian sand belt courses.
With 18 holes and a slope of 132, the Nick Faldo course is part of the Wildfire Golf Club at the JW Marriott Phoenix Desert Ridge Resort & Spa. "We wanted to create a layout that was unlike anything else that existed in the Phoenix region. The surrounding scenery, however, is classic Arizona, with ancient cacti and stunning mountain backdrop. I'm confident that our layout at Desert Ridge will inspire all golfers to bring out the very best game in their game," said Sir Nick Faldo.
Have we sparked your interest in playing on this amazing, challenging golf course? If so, check out our best golf packages below.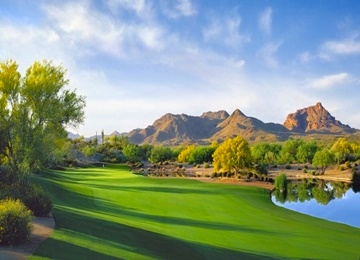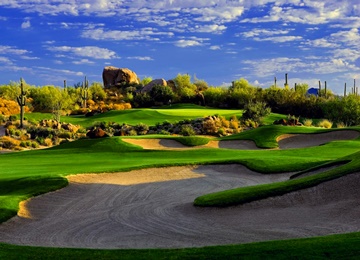 Enjoy a Scenic Desert Experience by Playing on the Arnold Palmer Golf Course
The Wildfire Golf Club has been awarded the "Best Place to Tee Off for National Golf Month" by Global Traveler USA. It is also home to the Arnold Palmer signature course, which uses flashed bunkers and undulated putting greens to offer a challenging experience to golf players. By virtue of the expansive fairways it features, this course allows players to remain in the game even on their errant shots.
The Arnold Palmer golf course was built in 1997, measuring 7,145 yards from the tournament tees. People who plan to play on this course may also want to know the following:
It is a par-72 golf course
It features a GPS option that offers players a detailed map of the course
It is a championship golf course
It has a slope of 142
It is open year-round
Ed Seay also contributed to the golf course's design
the fairways are Winter Rye Grass
With exquisite curvy putting greens that perfectly emphasize what Arnold Palmer golf courses are most famous for, players can expect excitement, challenge, and entertainment. "I enjoy designing golf courses that celebrate the sheer fun of golf, and Wildfire is exactly that," said Palmer about this course.
The Wildfire Golf Club hosts approximately 300 tournaments every year, providing a memorable experience to over 12,000 players. It is perfect for hosting tournaments of all sizes. Both the Nick Faldo and the Arnold Palmer golf courses have received numerous awards, including the Top 100 Resort Courses in the United States.
Go on a Weekend Getaway at the Luxurious JW Marriott Phoenix Desert Ridge Resort & Spa
Featuring extraordinary amenities, the JW Marriott Phoenix Desert Ridge Resort & Spa is a grand destination with a unique sense of place. It has 869 newly transformed guest rooms and 81 suites. The rooms offer superb views of the mountains, pool, and garden.
Furthermore, the resort provides countless opportunities for adventure, entertainment, dining, and relaxation, such as a spa fitness center, personal training, yoga, Pilates, tennis, biking, and pickleball. While you are at the JW Marriott Phoenix Desert Ridge Resort & Spa, you can dine at:
Tia Carmen: a stylish restaurant where you can indulge in the most inventive flavors of the Southwest by celebrity chef Angelo Sosa
Roy's Pacific Rim: a fusion dining place featuring the bold flavors of Asia and Hawaii with a tasty assortment of sushi, signature dishes, and cocktails
Meritage: this sophisticated urban tavern offers a very diverse menu and over 50 Arizona craft beers
Revive Spa Bistro: the perfect addition to your spa experience, this place is a great choice to nourish the body and spirit
The JW Marriott Phoenix Desert Ridge Resort & Spa is a four-diamond location with upscale style and amenities and the right touch of service. You and your friends or family can relish the refreshment of the five sparkling pools, drifting along the lazy river, and enjoy the relaxing space of a private cabana or one of six exclusive poolside suites. The JW Marriott Phoenix Desert Ridge Resort & Spa also has a sauna, indoor pool, steamroom, and free Wi-Fi in all rooms and offers horseback riding, massage, and hiking.
The Takeaway
Whether you're a beginner or a veteran when it comes to golf, the Wildfire Golf Club at the JW Marriott Phoenix Desert Ridge Resort & Spa should be on your list of destinations. The Nick Faldo and Arnold Palmer courses are enticing, challenging, and fun while also offering a great place for tournaments. So, gather your golf buddies or family and have a weekend getaway at this wonderful resort!