September 08th, 2016
#AskSean: Is Pasatiempo Golf Club as good as they say AND should we add it to our Pebble Beach trip?
Golf Travel Ideas, Golf Course Reviews, California, Pebble Beach Resort, #AskSean, Pasatiempo Golf Club
For the average or normal golf-enthusiast, when hearing 'Pebble Beach', they would obviously know exactly what is being talked about. Stating the obvious, of course. Heck, it's even safe to say that non-golfers know exactly what you are talking, but when you say 'Pasatiempo Golf Club', even some of the most avid golfers and traveling golfers don't know what and/or where it is.
That's what we're here for, to tell you what Pasatiempo Golf Course is about, why it's a must play, and, well, basically you will be kicking yourself for not doing so if you have been out Pebble Beach/San Francisco/San Jose way.
Let's get started . . .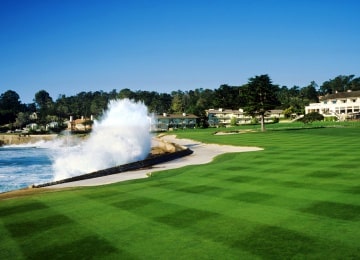 1. It's an Alister MacKenzie design
Yeah, you say (and probably so what!). Alister MacKenzie is the guy that happened to be a part of the design team, along with Bobby Jones, of a little 'ole course you may have heard of Augusta National Golf Club, where they play a little 'ole tournament every April called The Masters (Learn how to get Masters Tickets).
Alister MacKenzie designed this gem -Pasatiempo in 1929- and as of today it consistently holds its spot at #3 of golf courses you can play in the state of California (Golfweek Magazine), behind only Pebble Beach and Spyglass Hill.
Obviously, just because this is a MacKenzie design does not necessarily mean that golfers are going to flock to it to play (It should mean that!). Personally, if given the opportunity to play any of his golf courses, I would most certainly jump at the chance to play.
Let's move on . . .
Really, I guess this sums it all up when I say that it is widely noted that Pasatiempo was Alister MacKenzie's personal favorite golf course design (not too shabby coming from a guy that had a hand in Augusta), so much so that he had a home built along the 6th fairway to keep a 'close watch' over his precious golf course.
"Let me just say that if you come to NorCal and don't play Pasatiempo you're making a grave mistake. It's a spectacular course, def Top 100....Interesting, varied terrain; wild greens; artful bunkering; endless mix of shots; the ghost of MacKenzie; fun/walkable. What's not to love?"
- Alan Shipnuck, Senior Writer, Sports Illustrated
2. A classic layout that has and will continue to stand the test of time & technology
From a golf course layout and shot-making perspective, I would say that it truly does not get any better than Pasatiempo. No, it does not have the spectacular views as does Pebble Beach and Spyglass Hill, but everything else is about it is at the top of its class. From the opening tee shot, where you do happen to get quite the view from an elevated tee, to the final hole, Pasatiempo is an exceptional test of golf.
Recently undergoing a bit of a facelift on a few holes, compliments of Tom Doak, it has only increased the quality of the layout. Furthermore, everything about Pasatiempo is right in front of you. What you see is what you get, which in turn, only makes the overall golf experience to be that much better.
Notice
: Trying to get property of non-object in
/home/golf/public_html/frontend/default/contents/blog-content.php
on line
320

Notice: Trying to get property of non-object in /home/golf/public_html/frontend/default/contents/blog-content.php on line 331

Notice: Trying to get property of non-object in /home/golf/public_html/frontend/default/contents/blog-content.php on line 337

Notice: Trying to get property of non-object in /home/golf/public_html/frontend/default/contents/blog-content.php on line 342

Fatal error: Uncaught Error: Call to a member function image() on boolean in /home/golf/public_html/frontend/default/contents/blog-content.php:348 Stack trace: #0 /home/golf/public_html/frontend/default/layouts/default-layout.php(473): include() #1 /home/golf/public_html/page-controller.php(149): include('/home/golf/publ...') #2 /home/golf/public_html/index.php(25): require_once('/home/golf/publ...') #3 /home/golf/public_html/router.php(639): include('/home/golf/publ...') #4 {main} thrown in /home/golf/public_html/frontend/default/contents/blog-content.php on line 348