July 17th, 2016
Royal Dornoch Golf Club – A Scottish Highlands Links Gem
Golf Travel Ideas, Scotland, Golf Course Reviews
Ranked #5 in the World
1st Green at Royal Dornoch - Championship Course
A number of years ago, I was very fortunate to play, what I rank as my personal favorite golf course, Royal Dornoch Golf Golf Club. So much so that if I had one last round of golf to play, unless someone gets me a round at Augusta National, I'd be hard pressed to not say Royal Dornoch.
During our marathon Scotland golf vacation, where we played 18 rounds of golf in 12 days, drove 1,500 miles during that stretch - We'll save all of those details for another day! - We played a total of 4 rounds of golf at Royal Dornoch. Of course, in late June in the Highlands, we were greeted with a wide range of weather from sunny to overcast to cool to rain to rainy and cold. Perfect weather for golf in Scotland!
Back to Royal Dornoch . . .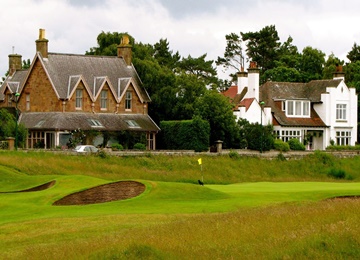 Loved By the Games Best
1st Green - Royal Dornoch Championship Course
Royal Dornoch Golf Club is home to the Championship Course and the Struie Course, but for this article we will focus only on the Championship Course.
Currently ranked No. 5 in the world and No. 1 in Scotland by Golf Digest magazine, the Championship Course is an Old Tom Morris design, which he extended from the original 9 holes to 18 holes in 1886. Today it plays as an out to in layout, par-70, 6,722 yards from the back tees.
So many attributes that make this golf course as amazing as it is, and amazingly fun as it is. No question, for the traveling golfer, when you step on the first tee at Dornoch to your final putt on the 18th hole, you are in for a world of fun! No matter the weather, no matter weather it's rain or shine, or you are getting plastered in the side of the face with rain, your round(s) will undoubtedly go down as one of your all time favorites!

"It's the most fun I ever had playing golf."

- Tom Watson
A Fun & Challenging Test of Golf
Royal Dornoch - 5th Hole
The beauty of Royal Dornoch is that it, as what any great golf course should do, is test every club in your bag. Not only test every club in the bag, but also demand you to hit different shots with each club in the bag. From the opening hole, a 331yards from the back tees, depending on the wind direction, you could have anywhere from a flip wedge into the green to a 6-iron. Of course, that is just one small example of the variation golfers will face through each hole.
#6 - Royal Dornoch
The par-4's are an exceptional mix of length and challenges, as are the par-3's and par-5's. My two favorite par-3's on the Championship Course at Dornoch are the 2nd hole and the 6th hole. The 184 yard 2nd hole is the full package when it comes to testing golfers. For the average golfer, they can hit anything from 7-iron all the way up to a 5-wood off the tee, again, depending on the wind direction.
The 6th hole, Whinny Brae, plays 161 yards, and is very visually intimidating from the tee. With nothing but gorse to hit over, tee shots must be precise! Of course, the green is protected by a massive bunker.

"No golfer has completed his education until he has played and studied Royal Dornoch."
- Herbert Warren Wind


One of the most enjoyable and challenging par-4's is the 5th hole - Hilton - is protected by several bunkers from the fairway through to the green. Precision is a must off the tee and on your approach shot, and no wonder it is the 1st handicap hole.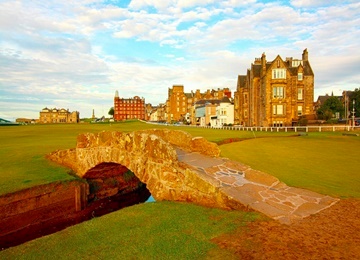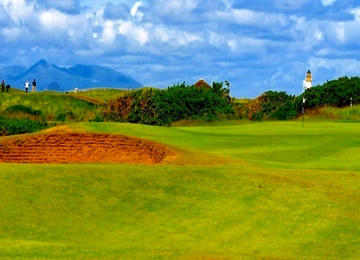 A Must Play
13th Hole - Royal Dornoch
The par-5 12th hole is the number two on the handicap ranking. Playing from 535 yards, Sutherland, is an amazing test of golf. As with all holes on a links golf course, the length it actually plays depends, for the most part, on the wind direction. During two rounds I hit a 4-iron into the green for my second shot, while the other two rounds there was no chance in hell I was getting there!
Foxy, the par-4, 445 yard 14th hole, is a difficult hole that requires a combination of strategy, power, and accuracy. Foxy will certainly test you!
Finishing up on #16, #17, and #18 is without a doubt one of the finest group of finishing holes. All par-4's of varying lengths and varying levels of difficulty, a golfer can certainly make up a stroke or two here BUT can also can penalized with some wayward shots.
17th Hole
17th Hole
The Championship Course at Royal Dornoch is a must play for golfers heading to Scotland. With the closest airport being in Inverness, approximately 45 minutes away, it is off the beat in track in the Scottish Highlands, which is likely why, unfortunately, it never has nor ever will host a British Open. That said, it is most definitely worth the effort to get there.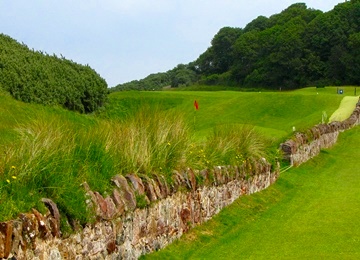 Golf Trip Junkie Specializes in Scotland Golf Tours
The obvious question now is "What kind of golf package can you create for us?" Quite simply, we can create any golf package, any Scottish Highlands golf package that involves any number of rounds of golf at Royal Dornoch Golf Club, as well as some great area golf courses. Simply fill out the golf vacation form and we will gladly put together a Scottish Highlands golf vacation package for you and your golf companions. Let's get started!