July 16th, 2023
Top 3 Reasons to Play the Golf Courses at JW Marriott Desert Springs Resort
Golf Travel Ideas, Golf Course Reviews, Palm Springs, California
If you're a golf enthusiast, choosing to go on a vacation at JW Marriott Desert Springs Resort is one of the best decisions you can make, as this luxurious destination has a lot to offer in terms of courses and amenities. The resort is one of the most popular golf destinations in Palm Springs, and for a good reason. Built in 1987, it's home to two amazing championship golf courses designed by the famous architect Ted Robinson.
From the moment you arrive on the lush grounds of JW Marriott Desert Springs Resort, you'll feel yourself relaxing, and the beauty of the desert will sweep you off your feet. Playing golf is not the only thing why you should add JW Marriott Desert Springs Resort to your bucket list, as this spectacular destination has plenty in stock for those who choose it. Here are just three reasons you should visit JW Marriott Desert Springs Resort in Palm Springs.
The Palm Course and the Valley Course, Two Desert Gems by Ted Robinson
Complemented by sprawling water features and rolling greens, the Palm Course is undoubtedly one of the architect's signature creations. Ted Robinson, who was known as the King of Waterscapes, populated over half of the holes on this golf course with water hazards with clean border lines and decorative stonework. The water holes will increase the excitement level throughout your round. While some of the ponds and lakes on the Palm Course sit away from the line of play, others are right in the line of attack. The 17th hole is a par 3 with an island green, and the superb finisher comes right back to the epicenter of the resort. The enjoyable aspect of Robinson's design – the palm trees, the blue sky against the backdrop of the Santa Rosa Mountains, and the water – set the tone for a memorable day of golf at the Palm Course.
Wrapping around the back of the resort, the Valley Course features challenging bunkers, generous fairways, and undulating greens, which allows for a scenic golf experience embracing the landscape's natural beauty. Decorative elements and water hazards are a little less prevalent on this golf course, although water ups the drama with some forced carries. Golfers will find a more challenging layout meandering around the resort villas on rolling terrain. The hills and mounds, while they are more gentle than severe, might result in a few blind shots from the fairways or just off them. The Valley Course poses a challenge that shotmakers relish. You'll also find somewhat quicker greens on this golf course. Since the Valley Course entertains less play than its sister course, it's usually in slightly better condition.
Are you interested in playing golf at JW Marriott Desert Springs Resort? If so, check out one of our best offers for this great destination below!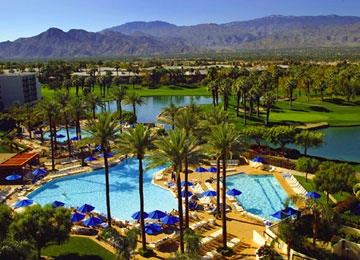 Indulge in Delicious Meals at One of the Stellar Dining Places at the Resort
The dining outlets at JW Marriott Desert Springs Resort deliver a great variety of culinary experiences, from casual poolside bites to five-course tasting menus. The signature restaurants of the resort offer innovative menus shaped by high-quality flavors and locally sourced ingredients. These are only some of the dining places where you can relish exquisite dishes if you're staying at JW Marriott Desert Springs Resort:
Rockwood Grill: you can savor innovative cuisine made from the freshest local ingredients, and this restaurant also offers amazing water views from the patio
Mikado Japanese Steakhouse: you can experience authentic Japanese cuisine in a sophisticated setting, where every morsel is prepared with fresh, locally grown ingredients
Aquifer65 and The Sushi Bar: this dining place welcomes restaurant patrons every night with delectable small plates of tantalizing Japanese fare but also tempting craft cocktails
Fisherman's Landing: you can indulge in freshly-caught seafood and local produce, as well as desserts, at this award-winning restaurant
Enjoy the Amenities and Experiences Offered by JW Marriott Desert Springs Resort
In addition to golf, the resort features many other amenities and experiences you can relish, including a spa, which offers a wide array of treatments, including massages, facials, and body treatments, pickleball, tennis, lawn games, swimming, and a miniature putting course. Furthermore, there are countless attractions located just minutes away from JW Marriott Desert Springs Resort, including:
Hiking Trails: Palm Desert offers a variety of trails for hiking enthusiasts and for those who just love the outdoors and the rich history of the Santa Rosa San Jacinto National Monument
The Living Desert: you can experience Palm Desert's wild side at America's only zoo dedicated to the world's desert species – imagine a land inhabited with extreme wildlife unlike any other
Palm Springs Aerial Tramway: as the world's largest rotating tramcar, it allows you to experience a 10-minute breathtaking journey up the sheer cliffs of Chino Canyon
Joshua Tree: this national park is immense, spanning nearly 800,000 acres, and while it can seem unwelcoming, it is, in fact, delicate and extremely fragile
The Takeaway
JW Marriott Desert Springs Resort is by far one of the must-go golf vacation destinations, as it is home to two amazing championship courses and offers numerous relaxing and exciting amenities and experiences. Whether you're visiting or you're a local, if you're a golf aficionado, you should definitely add this resort to your bucket list.