May 04th, 2022
Playing Golf in Palm Springs – A Truly Unique Experience
Golf Travel Ideas, Palm Springs
Palm Springs, a city in the Sonoran Desert of California, is best known for its breathtaking hot springs, fancy hotels, and spectacular golf courses. Perhaps the most popular and sought-after golf course in the area is PGA West, located in La Quinta, a desert resort city in Riverside County, approximately 25 miles from Palm Springs. It features 9 iconic golf courses, all in one exquisite location! PGA West is also home to 5 clubhouses and 2 private golf clubs that offer a vast array of services for visiting guests and members. Numerous high-profile celebrities and professional golf players have enjoyed at least one game at PGA West.
The golf courses of PGA West were designed by distinguished architects such as Arnold Palmer, Jack Nicklaus, Greg Norman, Tom Weiskopf, and Pete Dye, most of which opened in 1985. Ever since it was founded, PGA West has continued to attract professional, amateur, and leisure golf players from all across the country. If you want to play at PGA West, you can choose between the following 5 unique golf courses after you obtain your membership or are invited as a guest by a member:
PGA West Pete Dye Stadium Course
PGA West Jack Nicklaus Course
PGA West Pete Dye Mountain Course
PGA West Greg Norman Course
PGA West Pete Dye Dunes Course
Has PGA West in La Quinta become your favorite golf destination? If so, you can become a member of both The Club at PGA West and The Citrus Club, which have their own special privileges. Whether you are a member of one or both, you will find plenty of opportunities for amazing golf and tennis, as well as wonderful dining and endless recreation.
If you are seeking a place to spend the night after playing golf at PGA West or multiple days while you are discovering everything the place has to offer, we highly recommend La Quinta Resort, which is located just several miles from the golf courses at the edge of the majestic Santa Rosa Mountains. Depending on how many friends accompany you and your preferences, you can opt for a Spanish-style casita with a private patio and hot tub, a luxury suite, or a villa.
Regardless of how you obtain access to PGA West, you can choose from one of our great offers for this awesome destination, which you can find below.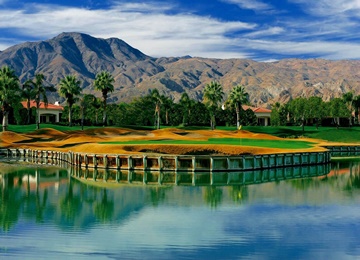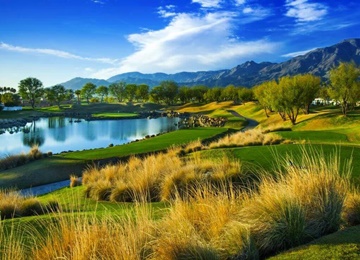 Shadow Ridge Golf Resort, Another Great Destination Near Palm Springs
Shadow Ridge Golf Club was designed by six-time major champion Nick Faldo, renowned for his relentless pursuit of excellence as a golf player. He was the 2008 European Ryder Cup Captain, which speaks volumes about his talent, perseverance, and skills. Nick Faldo's vast international experience and dedication to strategic design can be seen on every hole, drawing inspiration from the sand-belt golf courses of Australia. His Shadow Ridge Golf Club design includes greens that abound in subtle undulations and encourage a wide range of approach shots.
The following are the course specifics at Marriott's Shadow Ridge Golf Resort:
white – 5,158 yardage, 113-128 slope
combo – 5,708 yardage, 120-132 slope
gold – 6,204 yardage, 125-140 slope
green – 6,621 yardage, 130 slope
black – 7,006 yardage, 135 slope
Shadow Ridge Golf Resort offers multiple types of memberships, such as annual membership at $3,500, corporate membership at $9,000, annual range membership at $2,000, junior membership at $1,500, and family membership at $7,500.
Play the Indescribable Pete Dye Course at Westin Mission Hills
The Pete Dye Resort Course in Palm Springs first opened in 1987, and it is one of the tamest the architect with the same name designed throughout his career. It is most accurately described as "Potentially Diabolical, Yet Indescribably Playable". The following are the current prices for playing the Pete Dye Couse at Mission Hills:
January 1 – April 30: $65
May 1 – May 31: $55
June 1 – September 30: $45
October 1 – December 31: $65
If you intend to play here, you must book your tee time 90 days in advance as a public guest and 3 or 4 days in advance as a golf club cardholder. Palm Club Membership offers Individual, Household, and Corporate memberships, each coming with its own unique perks. The following are the ratings and slopes of the golf course:
men's black: 72.2/131
men's gold: 69.6/126
men's silver: 66.7/116
ladies' silver: 72.1/126
ladies' jade: 67.6/117
Finally, another superb golf course you can play at is the Gary Player Signature Course at Mission Hills North. It is a popular course among both public and resort golf players and is often the alternative to the Pete Dye Course, as it is easier for the average golf player to complete. The course's design uses water extensively, with lakes coming into play on 10 holes.
Opting for the Gary Player Signature Couse is as good a choice as the Pete Dye Course. Imagine scenic views, waterscapes, and waterfalls with the peaks of the San Jacinto Mountains as your surroundings while you are relishing a round of golf! Gary Player fit his course into the natural surroundings, taking advantage of the California desert. Whenever possible, the architect worked the greens and tees into the land that was already there. The fairways are wide and blind shots, and doglegs are nonexistent!
If you are interested in a weekend getaway at Mission Hills, check out our great offers below.