July 28th, 2023
Why Playing Golf in Ireland Can Be a Memorable Experience
Ireland is a tiny island on the edge of Europe, yet it is home to over 400 golf clubs, as well as a third of the world's natural links courses. A links is the oldest style of golf course, which was first developed in Scotland. It is usually built on sandy coastland, providing a firmer playing surface than heathland and parkland courses. It is worthy of note that 50 of the most prestigious links golf courses can be found in Ireland.
Every year, more than 240,000 golf players visit Ireland to play on its breathtaking links, including champions like Rory McIlroy, Tiger Woods, and Phil Mickelson, and actors such as Will Ferrell, Bill Murray, and Paul Rudd. Because it is a truly majestic golf destination, it should come as no surprise that Ireland has been the International Golf Destination of the Year on more than one occasion, chosen by the International Association of Golf Tour Operators over the last 20 years.
If we've sparked your interest in playing golf on the spectacular links of Ireland, you now have the chance to fulfill your dream, as we offer two packages for this unique destination. Most golf clubs there offer special rates for visitors and groups and, by virtue of our knowledge and experience, you can enjoy some rounds with your friends or family in Ireland at the lowest costs possible! However, you may still wonder – What makes Ireland such a special golf destination?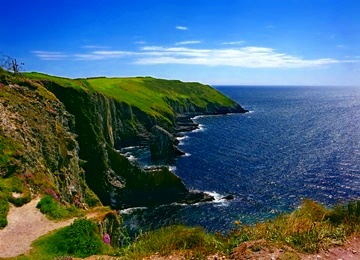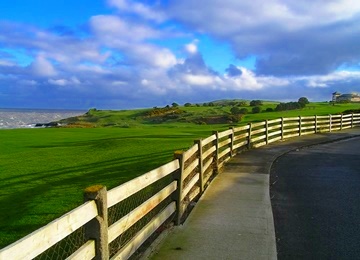 Playing on the Southwest Irish Golf Links, A Once-in-a-Lifetime Adventure
Spread along the stretch of the Wild Atlantic Way, one of the longest defined coastal routes in the world, the Southwest Irish Golf Links are jaw-dropping and awe-inspiring. These are just five of the most spectacular golf courses in the area:
Old Course, Ballybunion: With 36 famous links holes and overlooking the stunning nearby dunes, this golf course is perhaps the most renowned in Southwest Ireland. It offers a lot of variety, as the calm builds to a crescendo while you're playing, with the exceptional back nine ducking and diving through the biggest dunes. Ballybunion allows players to work their way to the sea. With beautiful ocean topography, this is one golfing experience in Ireland that changes everything.
Tralee Golf Club: The golf course of this club has some of the most stunning holes and dazzling scenery. Built by the prominent designer Arnold Palmer, it has towering dunes and deep hollows, and it will put your golf prowess to test, as the course at Tralee Golf Club has steep putting surfaces, and anything askew will inevitably slip away off its velvet surfaces. If you want to play on this course, you will need to be extremely cautious, as the dramatic back nine is very challenging and potentially dangerous for beginners.
Waterville Golf Club: With the opening hole called Last Easy, it's not hard to imagine that this golf course requires advanced skills and a lot of experience. Therefore, you should be ready for the delightful challenges this links will throw at you. On the bright side, even though the holes become increasingly dramatic as you're playing, the numerous raised tee boxes will help you get a pretty good idea about what lies ahead. We can guarantee that you'll never forget the par-five 11th (Tranquility) and the par-three 12th (Mass Hole).
Lahinch Golf Club: The legendary Old Tom Morris and Alister MacKenzie have played on this golf course, so you'll know from the very beginning that you're going to play one of the world's finest links. While playing at Lahinch Golf Club, you'll be able to enjoy the view of the hypnotic fairways weaving between dunes and the exceptional, as well as tricky, greens of this golf course. Because it has various difficulty levels, the course will make both professionals and beginners feel at home.
Dooks Golf Club: At first glance, the course at Dooks Golf Club may seem small, but you shouldn't be fooled by its size, as the incredibly good planning, design, and architecture will allow for a memorable and thrilling game. The golf course also features unique slopes and contours that blend perfectly with the distant mountains. In 2014, the course at Dooks Golf Club celebrated its 125th anniversary, being one of the oldest links in Ireland.
It's important to remember that these are some of the greatest courses in Southwest Ireland, as this part of the island actually features many more. Other notable golf courses you can find here include Old Head Golf Links, Cork Golf Club, Doonbeg Golf Links, Fota Island Resort, Adare Golf Club, and Dingle Golf Links.
The Most Exquisite Golf Courses in Northern Ireland
Over the last years, the demand for Northern Ireland golf packages has increased significantly – and for a good reason. While the decision of golf players to choose this destination may have been influenced a little by the rise of great major champions such as Rory McIlroy, Darren Clarke, and Graeme McDowell, the main reason so many people want to go on a Northern Ireland golf vacation is that the links courses there are simply amazing. Here are just three of the most spectacular links in Northern Ireland:
Royal Portrush Golf Club: Also known as The Valley, the multiple golf courses at this club are suitable for amateurs and professionals alike. The fairways, greens, and bunkers are meticulously taken care of, and the surrounding landscape is superb. Royal Portrush Golf Club resides in a triangle of enormous sandhills, which offers breathtaking views in all directions – the hills of Donegal in the west, the Isle of Islay, and Southern Hebrides in the north, and the Skerries in the east. At Royal Portrush Golf Club, you can also find the Dunluce Links, one of the most challenging golf courses worldwide.
Ballycastle Golf Club: The view at Ballycastle Golf Club is picturesque, with panoramic views of the sea and the beach to one side and the beautiful hills and countryside to the other. Founded in 1890, this golf course is undoubtedly one of the most scenic in Northern Ireland. If you'd like to play at Ballycastle Golf Club, you'll have to make sure you book your golf package at least three weeks in advance.
Ardglass Golf Club: Located just a half-hour from Royal County, the golf course at this club has a lot to offer. This is one of the golf courses with people from around the world returning year after year, and the clubhouse is the oldest in the world, having been founded in 1405 AD. Designed by David Jones, this golf course has dramatic elevation changes that offer stunning views of the Irish Sea from every hole. The opening five holes at Ardglass Golf Club are truly memorable, as they are spread along the edge of the cliff tops. According to some players, this Northern Ireland golf links has better views than the courses at Pebble Beach, which are also links.
Northern Ireland is home to approximately 90 golf clubs, so there is much more to discover! Other noteworthy golf links in Northern Ireland are Royal County Down Golf Club, Castlerock Golf Club, and Portstewart Golf Club. In fact, Royal County Down belongs to the same category as Cypress Point, Pine Valley, and Royal Melbourne, which speaks volumes about its golf course and scenery.
The Takeaway
While choosing to play golf in Southwest Ireland or Northern Ireland can be quite expensive, it's worth saving money for a vacation on this exquisite island. If you opt to have your vacation arranged by Golf Trip Junkie, you will have very few things to worry about, as we will take care of nearly everything for you!