September 10th, 2017
Pinehurst Resort - Ultimate Buddies Golf Vacation
Pinehurst Resort, Golf Travel Ideas, North Carolina, Pinehurst No. 2
We are asked all the time what the perfect buddies golf vacation would be for larger groups, and as a result, we have created several - this one in particular being at Pinehurst Resort. Simply put, our Pinehurst Ultimate Buddies golf vacation is a must and will be the talk of your group for years to come.
Perfect for Groups of 8, 16, 24 (Any Multiples of 8 Will Work)
With this Pinehurst golf package, groups of 8, 16, 24, etc., will enjoy staying in the Carolina Villas at Pinehurst Resort. Each villa has four private rooms and within the rooms feature 2 Queen Beds, a LCD TV, Wi-Fi, desk. Outside the individual private rooms your group will enjoy the following:
A common area with a LCD TV
Spacious lounge area with, wait for it, wait for it . . . a wet-bar! (Stock up on all of your favorite beverages)
Dining area
A private patio/balcony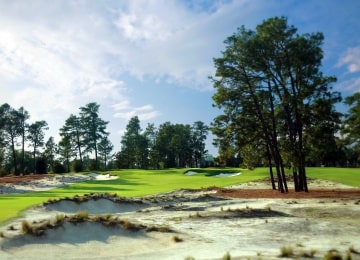 No Better Setting to HangOut with Buddies Following a Day of Golf
Following a day of golf, which this particular golf package has been tailored for 4 nights and 5 rounds of golf (We can custom-build it however you would like!), the group can reconvene in the Villas, have some drinks while sharing tales, lies, and laughs from the day of memorable golf at Pinehurst Resort, watch your favorite sporting event, and most importantly relax while building a bond for lasting friendships.
Ideally situated to the left of the main hotel - The Carolina Hotel - the resort staff will be and are more than happy to cater a dining experience for the group. With your choice of a patio/balcony or indoors, how can you go wrong, right?
At the end of the day, all of our Pinehurst golf packages offer something special and memorable, but when it comes to big groups of 8, 16, or 24 (or any multiple of 8), there is nothing better out there for the price and value. Not only will the team at Golf Trip Junkie take care of every aspect of the planning for you, but will make it as seamless and easy, moreso than you could have ever imagined!
Golf Trip Junkie Specializes in Pinehurst Resort Golf Vacations
To receive your complimentary quote give us a call at 1.866.634.0790 OR take a stab at our Request Quote button directly below.