June 05th, 2023
Sandhills Golf (North Carolina) and Myrtle Beach Golf – Both Great Golf Spots, Each With a Different Purpose
Golf Travel Ideas, Barefoot Golf Resort, Myrtle Beach, North Carolina, South Carolina, Sandhills, NC
Lately, as it must be that time of year, we have been receiving a handful of requests for North Carolina golf packages, in particular in the Sandhills/Southern Pines area, which is obviously great. However, some of them have been coming in looking to get the same package pricing they have received for years in Myrtle Beach in the ballpark of a few hundred bucks per golfer for three, four, or five nights and plenty of golf.
Myrtle Beach - The Golf Mecca of the World
While Myrtle Beach is a fantastic golf spot - the Golf Mecca of the World - with golf courses everywhere you turn at every corner, finding a golf course in Myrtle Beach is as easy as finding a Tim Horton's coffee shop in Canada.
In Myrtle Beach, golfers get a wide range of golf from lower priced and great value to mid-range and even better value to high price range to some of the best golf you will find in the state of South Carolina, i.e., True Blue Golf Club, Caledonia Golf & Fish Club, Barefoot Golf Resort, Tidewater Golf Club, TPC Myrtle Beach, and several others, all of which are highly ranked in the state of South Carolina.
Because there are so many golf courses in Myrtle Beach, the competition is very high. With high competition comes much lower pricing, both in golf and in lodging options. Simple economics. Prices are naturally going to be much lower, which of course, is absolutely awesome!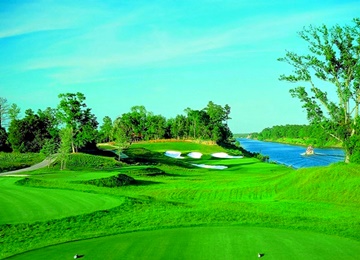 Great Sandhills Golf
In North Carolina - Sandhills and Southern Pines - there are several different levels of golf courses as well. However, there are not nearly as many golf courses as in Myrtle Beach, so driving the price down is not nearly as prominent.
Furthermore, in this region of North Carolina, golfers will play some of the best and highest-ranked golf courses in the state. For example, Dormie Club ranks #2 behind the famed Pinehurst No. 2, Pine Needles, and Mid Pines, which typically hold down #3 and #4 in rankings, often swapping spots depending on the golf magazine that is doing the rankings. And, of course, the highly ranked and highly touted Tobacco Road Golf Club, a Mike Strantz masterpiece.
Not to be outdone, golfers also have the choice of other area great golf courses such as Southern Pines, the renovation at Talamore New Course, Mid South Golf Club, Pinewild courses, Tot Hill Farm, and on and on we can go.
The bottom line is that two different golf locations serve two different purposes. Both are great and should be at the top of any golfer's list. When it comes to great value, Myrtle Beach is the obvious choice, no question about it. If you're looking for a different overall golf experience at a slightly higher price, the Sandhills of North Carolina is the spot!
Sandhills or Myrtle Beach? We're Ready to Help You Plan
Start planning right away, either a Sandhills golf vacation or your Myrtle Beach golf getaway by requesting a personal quote OR call us at 877.634.0790 today.