September 30th, 2022
Innisbrook Resort in Tampa, a Bucket List Golf Destination
Golf Travel Ideas, Golf Course Reviews, Florida, Tampa
With four amazing golf courses and plenty of exquisite amenities, Innisbrook Resort was built in 1970. Located in Palm Harbor, northwest of Tampa, the resort is owned by Sheila Johnson, America's first Black female billionaire. The golf courses were designed by the innovative and creative architect Lawrence Packard and feature unique layouts and scenery that is reminiscent of the Carolina Sandhills and the Georgia Foothills. They are consistently among the "Top 100 Courses You Can Play" by Golf Digest.
The Copperhead golf course is perhaps the most famous, being a favorite among the world's finest golf professionals. With fairways surrounded by pine trees, rolling terrain, and the nearby lakes and ponds as water hazards, this golf course is also home to abundant wildlife, such as fox squirrels, alligators, bald eagles, and blue herons. At over 7,200 yards, the Copperhead golf course poses a lengthy challenge, even for the longest hitters. The following are some of the most important details of every hole of this majestic course:
Hole 1: "Innisbrook's View", par 5, requiring three calculated shots to reach the green
Hole 2: "Second Thoughts", par 4, requiring a decisive shot off the tee
Hole 3: "Narrow Neck", par 3, has a landing area off the tee just 30 yards wide
Hole 4: "Bunkered", par 3, requiring accuracy while playing into a heavily protected green
Hole 5: "Longview", par 5, plays at 600 yards from the tips
Hole 6: "Sidewinder", par 4, requiring a high fade off the tee
Hole 7: "Hidden Gem", par 4, offering players their first reprieve and the opportunity for a birdie
Hole 8: "Drop Off", par 3, it plays into an 8000-square foot green
Hole 9: "Hide Away", par 4, it plays into a well-protected green
Hole 10: "The Descent", par 4, a downhill playing back up into elevated greens
Hole 11: "O's Alley", par 5, with the fairway opening up more than it appears from the box
Hole 12: "Bridge Hole", par 4, will challenge players' distance control
Hole 13: "Forced Carry", par 3, it has tightly mown areas around the green
Hole 14: "Packard's Double Dogleg", par 5, players should follow the contour to score well
Hole 15: "Snake Bite", par 3, the bunkering becomes even more venomous
Hole 16: "Moccasin", par 4, it is one of the toughest scoring holes on the PGA TOUR
Hole 17: "The Rattler", par 3, it has plenty of bite for players who miss the green
Hole 18: "The Copperhead", par 4, it is the ultimate finishing hole for a championship course
Undoubtedly, the Copperhead golf course is the most famous at Innisbrook Resort. It serves as host to the world's most talented golf players during the tour's visit to the resort each spring. Paul Azinger, a 12-time winner on the PGA Tour and Captain of the 2008 U.S. Ryder Cup Team, has called Copperhead "the best course we play on tour." Striking in beauty, challenge, and excitement, this golf course has the characteristics of a Carolina layout with dramatic elevation changes and tall pines. If you decide to play the Copperhead, you will have a memorable experience from tee to green.
Are you planning a golf vacation in Tampa, Florida? Check out our best offers for Innisbrook Golf Resort below!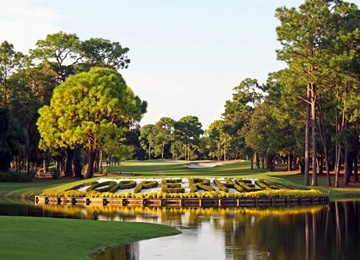 Let's Not Underestimate the Beauty of Playing the Other Three Golf Courses at Innisbrook Resort
Also known as "Baby Copperhead", another very challenging golf course at Innisbrook Resort is the North Course. The golf course has numerous daunting par-3 holes and a yardage of 6,300 from the back tees. It features tight fairways, hundreds of trees, and strategically placed greens. Eleven holes on the North Course also present water hazards, making your club selection a crucial decision when trying to break par.
The South Course, at just over 6,600 yards, is reminiscent of a links-style design when it comes to the rolling terrain and many fairway bunkering. It has ten water hazards, undulating terrain, and Gulf of Mexico breezes, which makes this golf course yet another challenge if you're on a getaway at Innisbrook Resort. Furthermore, the South Course features open fairways, it has no overhanging trees blocking your shots, and the greens are flat.
Finally, the Island Course was the first to be constructed at Innisbrook in 1970. It offers stunning views and a testing game for players, regardless of their skills. The golf course features tight fairways, intimidating water hazards, numerous bunkers, and breathtaking elevation change, which is uncommon for the usual Florida terrain. The Island Course is home to the second-highest point of elevation in Pinellas County.
Have a Delicious Meal at One of the Four Dining Places at Innisbrook Golf Resort
After playing the daunting Copperhead or any of the magnificent golf courses at Innisbrook Resort, you can enjoy a hearty meal at one of the four dining places, each offering something different:
Packard's Steakhouse: as the signature restaurant of the resort, it serves the finest aged premium beef steaks, sumptuous cold-water lobster tails, and fresh local fish
Market Salamander Grille & Bar: it offers a wide variety of choices, and you can relax in a comfortable atmosphere while trying some of the guests' favorites, such as the Chinese Chicken Salad
Turnberry Pub: here, you can have a friendly, casual dining experience, whether you choose to dine inside or on the patio overlooking the Island Course
Grill at Loch Ness: featuring grilled sandwiches, hamburgers, salad, and more for the entire family, this place is perfect if you'd like to enjoy the beautiful Florida sun while dining poolside
No matter which dining place you choose, you're bound to have a very pleasant experience, and you can also spend quality time with your golf buddies or your family.
The Takeaway
While most golf aficionados go to Innisbrook Resort to play the Copperhead, you should take your time to appreciate everything this amazing destination has to offer. In addition to playing golf, you and your loved ones can enjoy a spa experience, play tennis, swim in one of the pools, rent a bike to explore the scenic surroundings, go fishing, or relax doing yoga on the spa terrace. Innisbrook Golf Resort should definitely be on your bucket list of golf destinations, regardless of how good your game is!