January 11th, 2023
Hilton Head Island, A Superb Golf Destination in South Carolina
Golf Travel Ideas, Golf Course Reviews, South Carolina
Since 1962, golf has been a fundamental part of life on Hilton Head Island, a town 95 miles southwest of Charleston. Today, it's home to over 23 championship golf courses, both public and private, designed by world-famous architects such as Pete Dye and Jack Nicklaus. Everyone can enjoy a memorable golf experience, regardless of their skill level, on breathtaking traditional parkland and oceanfront courses. The diversity of golf courses, the delightful Southern hospitality, and the enjoyable weather are perhaps what made Golf Digest readers vote this exquisite place as the #10 golf destination in the world. Furthermore, the island is a PGA TOUR event destination and the host of the annual RBC Heritage Presented by Boeing.
The Sea Pines Resort is, without a doubt, Hilton Head's premier golf destination, as it hosts three renowned golf courses and two esteemed golf clubs. Located along 5,000 oceanfront acres, this luxurious resort has been a quiet retreat for over half a century. In addition to the unforgettable golf experience you can have at the Sea Pines Resort, there are also plenty of activities you and your loved ones can engage in, such as enjoying a bicycle ride, spending a day at the immense pool, playing tennis, riding a horse, or exploring some of the area's historical sites. With unspoiled beaches, tranquil lagoons, tidal creeks, saltwater marshes, and the serene Sea Pines Forest Preserve, this place will make you want to return.
These are just some of the mesmerizing golf courses you can play at Hilton Head Island if you're planning a weekend getaway in South Carolina:
Atlantic Dunes: The layout of this golf course is a reconstruction and recreation of the resort's historic Ocean Course, the first built on the island. Atlantic Dunes features a pronounced seaside ambiance, and Lowcountry feel is accented by coquina shells and seaside grasses. Numerous indigenous plants have been installed in the area to complete the seaside feel. Davis Love III and Scot Sherman have fashioned completely rebuilt holes to accommodate contemporary shot values and frame picturesque corridors. With a par 72 and a 7,010 yardage, this golf course will certainly make you want to play another round. This Lowcountry track features water on nearly every hole and lurking gators if you look close enough.
Heron Point by Pete Dye: As the result of a very expensive reconstruction project in 2007, this course is a sublime transformation of The Sea Pines Resort's original Sea Marsh Golf Course. Pete Dye dramatically reshaped the fairways of the original course, and the mounds and hillocks always keep players off-balance with dramatic angles and shifting elevations. Various obstacles lurk around the putting surfaces, and the greens are small and undulating. This golf course challenges players with long and short holes. The fairways move toward and away from hazards, and the mounding and swales framing target areas make Heron Point by Pete Dye a must-play course.
George Fazio Course: As the only par-70 golf course, Fazio designed a layout where the front nine features open, and the back nine becomes tighter and more severe. Regarded as Hilton Head Island's truest championship challenge, the George Fazio Course can be a surprisingly pleasant experience for both beginner and veteran players. The golf course at Palmetto Dunes, built in 1974, is one of the island's most distinctive and challenging layouts, but you shouldn't let that intimidate you. It has a par 70 and a 6,873 yardage. The layout offers a very exciting experience, and the golf course can be found within the Palmetto Dunes Oceanfront Resort. Although the George Fazio course is difficult to play, the staff will gladly offer tips for a great round.
Old South Golf Links: Conveniently located just before the bridge to Hilton Head Island, this golf course offers spectacular views of the intracoastal waterway and surrounding marshes. Having received the "Favorite Public Golf Course" award for the past eight years by Hilton Head Monthly readers makes Old South Golf Links a must-play for players of every skill level. Choosing this golf course will allow you to play on rolling terrain beneath towering oaks, where 16 of the 18 holes are without the intrusion of homes. Come and experience the abundant wildlife that makes their home at Old South Golf Links. To fully experience this golf course, you should come early for breakfast or relax at lunch in the grill room overlooking the lagoon. The course was designed by Clyde Johnston and built in 1991.
Arthur Hills: This is perhaps the most distinctive golf course at Hilton Head Island. Designed by the architect with the same name, it offers players a course with continuous lines of dunes and thick stands of palmettos. Although fairway bunkers are absent, ocean breezes and lagoons are novel elements of challenge. The Arthur Hills golf course was built in 1986. Its layout takes full advantage of the natural beauty of the area, creating a round of golf that is both challenging and beautiful. The par of the course is 72, and the yardage is 6,651. Part of the Palmetto Dunes Oceanfront Resort, the golf course was built in 1986.
If you fell in love with the place, we suggest you join one of the golf clubs in the area, such as the Oyster Reef Golf Club, which opened in 1982 and was shortly after ranked as one of the Top 25 New Courses in America. Another great option is the Dolphin Head Golf Club, which was open for play in 1974 and where you can benefit from golf lessons to master your game and rental clubs if you're a beginner and want to practice. Finally, the Harbour Town Clubhouse, which was designed to complement the distinction of Harbour Town Golf Links, features a stunning interior and will heighten your experience at the Sea Pines Resort.
Have we sparked your interest in playing golf in South Carolina? Check out the offers below for a well-deserved vacation with your family or friends!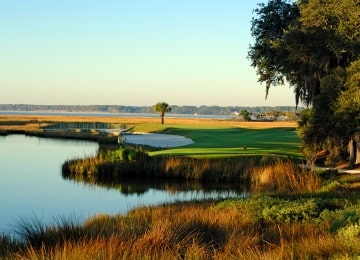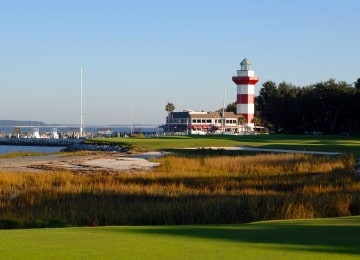 Dining on Hilton Head Island, a Truly Memorable Experience
With over 250 restaurants and a lot of bakeries, farmers' markets, wineries, breweries, and gourmet shops, there's something delicious to satisfy every palate. On Hilton Head Island, you can relish fresh seafood at a casual restaurant or dine by candlelight at one of the most elegant dining places. Indulge in local Lowcountry favorites like oysters, gumbo, and fried okra! These are only some of the restaurants where you can enjoy a hearty meal after a round of golf:
Old Daufuskie Crab Company: This island oasis features a variety of distinctly tasty entrees set against a background of magnificent sunsets over the pristine Cooper river. You can dine on the local shrimp, fish, and all the 'fixin's. What's unique about this place is that you can shuck your own oysters off the roasting pit in season. The chefs also put their original delicious spin on chicken quesadillas and burgers.
Poseidon: With live entertainment and the adjacent waterfront Town Park, there is so much to experience at Poseidon. The restaurant brings together a true, unique dining experience that will create wonderful memories. It is also pet friendly. At Poseidon, you can relish a fine selection of seafood, steaks, and much more. From sushi and stone crab claws to local oysters and grand shellfish towers, you'll find the best shellfish on the island at their amazing raw bar.
The Pearl Kitchen & Bar: Located in the heart of the historic art district of Bluffton, this dining place offers a refreshing new approach focused on a complete sensory experience with fresh, contemporary food preparations using some of the best fresh-catch seafood, certified steaks, and local produce available. The Pearl Kitchen & Bar will please your palate with the freshest ingredients prepared in a way that will entice you and keep you coming back for more.
One Hot Mama's American Grille: As a family-friendly restaurant on the south end of Hilton Head Island, this dining place offers delicious baby-back ribs, authentic pit-to-plate BBQ, hand-cut steaks, char-grilled chicken, wings, and salads. Executive Chef Orchid Paulmeier is the star of One Hot Mama's in more than one way. As a Food Network Star, she will bring her expertise in Southern BBQ straight to your table.
The Takeaway
With numerous golf courses, this wonderful town is a popular stop for those who enjoy spending their leisure time playing the sport. If you're planning a getaway to Hilton Head Island, a weekend might not be enough to discover everything this amazing destination has to offer. So, you might want to spend at least a week enjoying all the new experiences and playing as many golf courses as you want. Choosing a resort might also be challenging, as there are many golf resorts on Hilton Head Island. Nevertheless, whether you live near South Carolina or far away, a vacation in this stunning town is definitely worth it.