July 12th, 2023
Dormie Club: Transitioning to an Exclusive Private Club in Pinehurst, NC
Pinehurst Resort, Golf Travel Ideas, Golf Course Reviews, Dormie Club
Dormie Club, a top-ranked Coore & Crenshaw design located in Pinehurst, North Carolina, opened as a public course in 2010. Purchased by a group—the Dormie Network—the transition into a private, stay-and-play course was completed completed in May 2021.
Dormie Network Revitalizing Top U.S. Golf Courses
As a new and trending business model, to date, Dormie Network has purchased seven top golf courses with the intent of capping local memberships at 100 per property, plus National and Corporate memberships. Listed in the golf course purchases by Dormie Network are Dormie Club (West End, NC), Ballyhack Golf Club (Roanoke, VA), Victoria National Golf Club (Newburgh, IN), Hidden Creek (Egg Harbor Township, NJ), Briggs Ranch Golf Club (San Antonio, TX), Arbor Links (Nebraska City, NE), and Graybull Club (Maxwell, NE).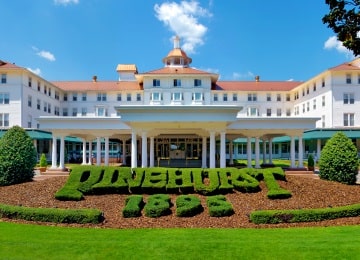 Brand New Expanisive Clubhouse & First-Class Cottages
At Dormie Club, they are focusing on golf course and agronomic improvements, which will only elevate the overall golf course experience for both members and guests. In addition to the golf course improvements on this Coore & Crenshaw gem, they also have a brand new and expansive full-service clubhouse, as well as multiple cottages and executive cottages: 4-bedroom cottages, with each bedroom having its own ensuite bathroom and a common room for the group to gather in. Based on the cottage and executive cottage model at Ballyhack Golf Club, these are all first class.
With its new approach and business model, Dormie Club is open to its members, as well as both accompanied and unaccompanied guests. While on the property, golfers can enjoy unlimited golf and cart fees per day of play. In addition, and if they wish, golfers can stay in the cottages as well as enjoy the exceptional menu and dining options, which, based on what they offer at Ballyhack Golf Club in Roanoke, VA, is second-to-none in the Pinehurst Area. A first-class experience every step of the way.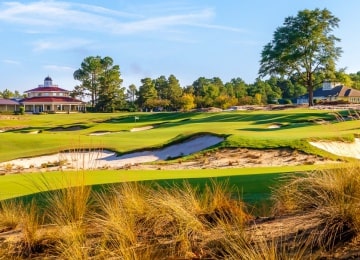 Plan Your Memorable Dormie Club Golf Vacation
For additional information on having your exclusive experience at Dormie Club, reach out to the Golf Specialists at Golf Trip Junkie. The Golf Team will be able to help create an unforgettable golf experience for you and your group. For information, call us at 877.634.0790.