June 30th, 2023
Best Summer Golf Getaways in California
Southern California, San Diego Area
The first thing that pops into the mind of every golf enthusiast when San Diego gets mentioned is Torrey Pines. The two city-owned courses there are famous for hosting the 2008 and 2021 US Open. It's not to say there are not plenty of choices, with the Omni La Rosa Resort, Tom Fazio's Rams Hill, and Barona Creek as some of the best-appreciated courses in the region.
A tourist hot spot, the San Diego region offers plenty of other attractions, including sandy beaches, some of the best waves for surfing, whale watching, historic landmarks, and much more. To top it off, it is notoriously easy to find accommodations in the region, and the mild climate, with average highs that rarely get above 80 F in the summer, will hardly have you sweating.
Pros:
Southern California is famous for its natural beauty.
The highly urbanized region offers plenty of things to do.
Near the ocean, the area has plenty of sunny beaches and is renowned for its surfing opportunities.
SoCal is wine country, and a wine-tasting tour shouldn't be missed.
Mild climate.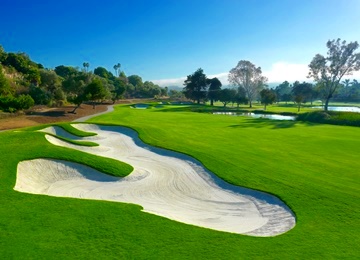 Carmel, Monterey Peninsula
Staying in California, the Monterey Peninsula is another destination that should make a golf enthusiast's itinerary. The course at Pebble Beach often makes the list of top ten most recommended by sports magazines, while nearby Poppy Hills, Spyglass Hill, and Links at Spanish Bay often give it a run for its money. Besides sandy beaches, the most important local attraction is the historic town of Carmel-by-the-Sea, which hosts the beautiful Carmel Mission.
Pros:
A good concentration of top golf courses makes this small area a must-visit for every enthusiast.
The Monterey Peninsula is home to beautiful sandy beaches and offers good opportunities for water sports, including surfing
Dotted with historic buildings and charming cottages, the small town of Carmel-by-the-Sea is a window into California's past.
The county is famous for its natural beauty and is home to many nature preserves. Both beach and mountain lovers will find plenty of stunning vistas to admire.
Cons:
It is hard to find anything wrong with Monterey County; maybe just that some points of interest are not all that easy to access.
The Pelican Hill Resort at Newport Beach
Considered one of the most luxurious resorts in Southern California, Pelican Hill offers plenty of opportunities for the avid golfer. The two golf courses on-site bear the signature of the famous Tom Fazio, and they are set up on the background of the Pacific, which makes for a stunning ocean view. The resort also boasts six restaurants and cafes, a camp for kids, and a full-service spa. Nature enthusiasts will be pleased to find out that Pelican Hill is only a stone's throw away from Crystal Cove State Parts, with its wide variety of coastal fauna and flora.
Pros:
Pelican Hill Resort is considered one of the most exclusive resorts in Southern California, and it definitely lives up to its reputation.
Both golf courses on-site offer a beautiful ocean view.
A lot of facilities will leave you wanting for nothing.
Easy access to the nearby Crystal Cove State Park, including complimentary shuttle service from the resort.
Cons:
A stay at Pelican Hill Resort will set you back a pretty penny.