November 07th, 2020
Best Road Trips for Golfers
Road tripping is definitely part of quintessential Americana, and not in the least because most other countries lack the size to allow for weeks and weeks on the road without the hassle of crossing international borders.
Smoothly cruising inside a roomy Cadillac and with Townes VanZandt's Big Country Blues playing on the stereo, a golfer's next concern should be what destination to hit next.
East Coast
Starting in our nation's capital we head south to the historic town of Williamsburg, Virginia. With its colonial-era architecture, Williamsburg is site to see, but we're here for the many golf courses in and around town. Among the best rated there's The Club at Viniterra and the Royal New Kent Golf Club.
Moving south to North Carolina there's one destination in our minds: Pinehurst. There's little left to say about the legendary Pinehurst No. 2 course, host to more golfing championships than any other field in the US. And a round on Pinehurst 2 will make you see why – the course is highly technical and requires a good deal of strategizing from the player. Neighboring courses, like Tom Fazio's No. 8 are nothing to scoff at either. And since we're in North Carolina, we can also visit the slightly less famous Sandhills.
South Carolina is a hotspot for avid golfers, with big names like Hilton Head, Kiawah Island and Barefoot. A favorite of many PGA tour players, Harbour Town Golf Links at Sea Pines, bares the signatures of Pete Dye and Jack Nicklaus, and was lovingly designed for an engaging player experience. Kiawah Island hosts no less than five golf courses, and the Ocean Course is a must see.
Further south in Georgia, there's the charming Sea Island resort on St. Simmons Island, with its miles of sandy beaches and three top-rated golf courses. You can't really drive there, but a round on the PGA Tour's RSM Classic is well-worth the effort of a boat ride. Famed for its beauty, this Fazio design poses quite a challenge due to its lack of cover from strong oceanic winds.
Dodging mis-adventurous men and women through Florida, we make our way to the Streamsong Resort, located in the eponymous town. This is home to three golf courses, all equally acclaimed and refreshingly varied. The Streamsong red, for example stands out for its high inclines and many waterholes.
The state capital is itself home to many renown golf courses, many conveniently located near hotels, like the Waldorf Astoria and Ritz-Carlton. Grand Cypress Golf Club and the quirky Pirate's Cove Adventure should also make the list.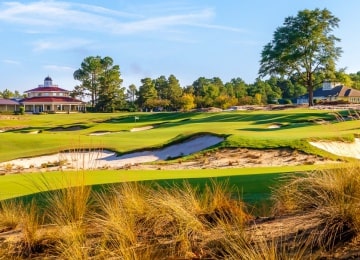 The South-West and West Coast
We next take a page out of Toynbee and follow on the footsteps of our intrepid ancestors ever westwards.
San Antonio is home to a number of well-regarded golf courses with a good deal of history behind them. Founded in 1916, Brackenridge Park is the oldest 18-hole course in the whole of Texas. The field offers a pleasant player-experience and there are also a hall of fame and trophy room to admire. As the name suggests, the Quarry Golf Course was built on the site of a former quarry and confronts the player with some unique challenges, while the TPC San Antonio, located in a luxurious resort, is a must-visit for those with the adequate means.
We've covered the town of Scottsdale, Arizona on several occasions -- which is to be expected given its importance for a golfer's itinerary. Scottsdale is home to no less than 19 top rated courses (as of November 2020) and the star that shines the brightest is the TPC Scottsdale, a close-rival to Pinehurst for providing ground to some of the most prestigious golf tournaments out there.
The city of Phoenix should not be missed either, with the Raven Golf Club and the Pheonix Country Club earning high marks from reviewers.
Las Vegas is home to many attractions but those with a passion for golf would be most interested in the town's two dozen or so courses. The ones at Paiute Golf Resort are among the best ranked in the country and offer unique desert challenges. For a more traditional experience, you can check out the Las Vegas National Golf Course, located smack in the middle of the city.
Moving westwards from Nevada we finally reach the "edge of the world and all of Western civilization". Literally hundreds of top-notch golf locations can be found throughout Californa, but since we can't take the rest of the week to list them all, we'll only point to just a couple of our favorites.
In Palm Springs there's the Desert Willow Golf Resort, La Quinta, the Escena Golf Club and Marriott's Shadow Ridge.
Pebble Beach on the Monterey peninsula is another worthy destination, with its famous Links and Dunes courses. Spyglass in Palm Beach is not to be missed either and Cypress Point is said to offer a challenging experience.
Notice
: Trying to get property of non-object in
/home/golf/public_html/frontend/default/contents/blog-content.php
on line
320

Notice: Trying to get property of non-object in /home/golf/public_html/frontend/default/contents/blog-content.php on line 331

Notice: Trying to get property of non-object in /home/golf/public_html/frontend/default/contents/blog-content.php on line 337

Notice: Trying to get property of non-object in /home/golf/public_html/frontend/default/contents/blog-content.php on line 342

Fatal error: Uncaught Error: Call to a member function image() on boolean in /home/golf/public_html/frontend/default/contents/blog-content.php:348 Stack trace: #0 /home/golf/public_html/frontend/default/layouts/default-layout.php(469): include() #1 /home/golf/public_html/page-controller.php(149): include('/home/golf/publ...') #2 /home/golf/public_html/index.php(25): require_once('/home/golf/publ...') #3 /home/golf/public_html/router.php(527): include('/home/golf/publ...') #4 {main} thrown in /home/golf/public_html/frontend/default/contents/blog-content.php on line 348