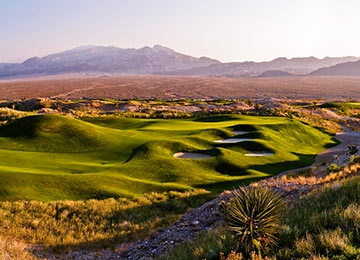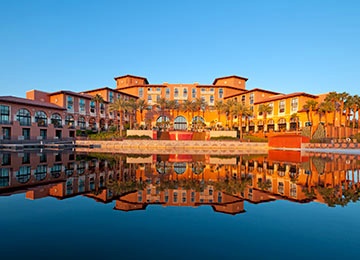 Commonly Asked Questions
The Westin Lake Las Vegas Resort & Spa
The Westin Lake Las Vegas Resort & Spa opened in 1999 as a Hyatt Regency and became a Loews resort in 2006. Nowadays, it offers golfers numerous amenities to enjoy in between rounds or at the end of the day. Besides playing at the adjacent Reflection Bay Golf Club, you can enjoy a luxurious and relaxing treatment at Aveda Spa Lago, make a splash at the Nuala Pool, or move well with a visit to the WestinWORKOUT Fitness Studio. As for dining, the resort is home to four restaurants where you and your friends or family can relish a delicious meal in a tranquil ambiance.
Las Vegas
The best time to play golf in Las Vegas is June, as you'll pay lower summer rates before the high temperatures arrive. The city provides quality and variety when it comes to golf courses. To fully enjoy golf in Las Vegas, you should spend at least three days at one of the resorts in the city, such as the Westin Lake Las Vegas Resort & Spa. This way, you'll be able to play multiple rounds and take advantage of the other exquisite amenities the resorts have to offer. Our golf vacation packages for this destination usually include three or four nights in Las Vegas.
People who intend to become members of a golf club in Las Vegas may have to pay $2,500 as the initiation fee, then between $200 and $500 or even more per month. Being a member of a golf club has many benefits, such as having access to the amenities only members can use and up to 20 free rounds of golf per year. It's important to note that the cost may climb above $1,000 per month when you add in various other fees, such as storage and golf cart fees.
Depending on the season and day of the week, playing a round of golf in Las Vegas can cost you between $350 and $600. Tee times should be booked by resort guests 90 days in advance. The reasons why playing golf in this city is so expensive are because of the renown of Las Vegas and because it's costly to build and maintain desert courses. While booking a golf vacation there can feel like you're spending a fortune, some resorts and courses in Las Vegas are really worth the money.