February 16th, 2022
The Perks of Playing at Sea Island Golf Resort in Georgia
Sea Island Golf Resort is located in St. Simons Island, Georgia. It currently ranks 4th in the top 75 best golf resorts in the country, offering three exceptional 18-hole championship courses, including Seaside and Plantation. Sea Island Golf Resort has a rich history, dating back to 1928. There, Davis Love III, the outstanding American golfer who has won 21 events on the PGA Tour, learned how to play golf from his father, practiced with his brother, and introduced his son to the game.
On Sea Island Golf Resort, you can easily get excellent instructors, new teeing areas, as well as practice greens, and a 17,000-square-foot, state-of-the-art Golf Performance Center. The golf course is perfect for everyone, from beginners who are just starting out to professional golfers and everyone in between. What makes Sea Island Golf Resort even more special and exquisite is the landscape and surroundings – tidal creeks, dunes, salt marshes, and the Atlantic Ocean.
All around the golf course, there are towering longleaf pines, sleepy native oaks, and dramatic greens, making players enjoy Sea Island Golf Resort even more for the tranquil and serene atmosphere it creates. If you wish to have a bewildering experience playing this golf course, we have some great offers you can pick from based on your preferences and budget, such as: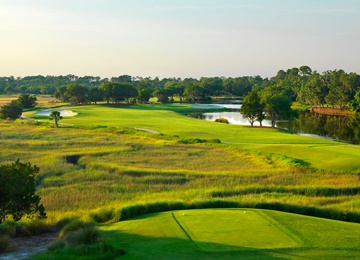 Start a New Family Tradition
The 18-hole putting course of the Lodge, which was designed by Mark Love and Davis Love III, can create the ideal pre-dinner activity for you and your family or friends to enjoy year-round. Playing golf with your family means spending quality time with your loved ones, and there is nothing like a carefree day together on the majestic Sea Island Golf Resort. Who knows, maybe this will become a family tradition! One of the perks of playing golf with your family at Sea Island Golf Resort is that guests under the age of 19 never have to pay greens fees – only their cart and caddie. Whether you are only starting out or ready to compete, this golf course has everything you need to strengthen and sharpen your skills.
From the early beginnings of Sea Island Golf Resort, records have been set, championships have been hosted, and leading touring professionals have been enchanted by the glorious setting of the golf course. Howard Coffin, who is the Sea Island Golf Resort founder, knew that playing this challenging sport would be important for the enjoyment of his future guests. Accordingly, in 1926, he bought Retreat Plantation, a former Sea Island cotton plantation. Over the years, golf became inherent to the Sea Island experience, with the first 9-hole course, Plantation, opening in the summer of 1928.
The Golf Resort's Luxurious Accommodations
Finally, in addition to enjoying one or more rounds of golf at Sea Island Golf Resort, the facility also has a spa and the beach at the Cloister that you can enjoy. Sea Island Golf Resort provides golf players and their families or friends with four accommodations, namely:
The Cloister – hidden on a private island, it is spacious inside and outside, has large, newly refreshed rooms and amazing suites, and is set on 50 acres surrounded by the river, the sea, and saltwater marshes with five miles of coastline to discover
The Lodge – there are many things that will draw you in if you choose it, such as the view of the sea from your balcony, one of two championship golf courses within arm's reach, the avenue of oaks that shelters it from the outer world, or relaxing on your front porch at one of seven beautiful golf cottages
The Inn – there is a lot to see and do on St. Simons Island, and The Inn at Sea Island Golf Resort keeps you close to all of it, from the crackling fireplace in the lobby to the heated outdoor pool and air pool deck, all of which embodies the spirit and warm hospitality of this otherworldly coastal destination
Rental cottages – away from it all, the cottages are spacious and convenient, along the ocean or with breathtaking views of salt marshes and tidal creeks, featuring the privacy of a personal home, with full access to everything Sea Island Golf Resort has to offer
It should come as no surprise that plenty of professional golf players live, train, and play at Sea Island Golf Resort, including Team USA 2016 Ryder Cup champions and residents Matt Kuchar, Zach Johnson, and Captain Davis Love III. While it may have all started with Davis, or Uncle Davis, as he is affectionately called by the younger professionals, for many top players in the game, there is no other place like Sea Island Golf Resort. Nevertheless, this should not deter you from going to this extraordinary golf destination, as, as we have emphasized, it is truly for everyone, from juniors to professionals in the game.